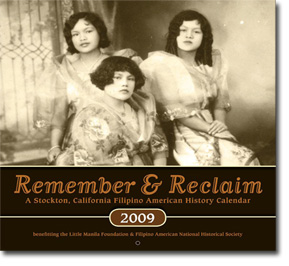 2009 Remember & Reclaim Calendar
Availability: Limited quantity in stock.
Stockton's Filipino American History Calendar featuring images and important dates of our rich history! Order your 2009 calendar, today!
$15.00
Product Description
Stockton's Filipino American History calendar features timeless images of the growing Filipino community of the early century. Photographs from family albums, to local & national collections have come together to tell the story of young pinoy and pinay pioneers paving the way for Filipinos in America today. Whether it was their initiation of the Central Valley labor movements, selfless WWII service, distinguished queen contests, or their well-renowned national gatherings, these were all times & people that should never be forgotten. Therefore, we marked all those important dates for you! Order your 2009 calendar today and lend a hand in Remembering & Reclaiming such rich history, every day of the year!
Proceeds benefit the preservation of the Little Manila Historic Site and the Filipino American National Historical Museum to be built in Stockton.