Guro Dan Inosanto Public Seminars 2018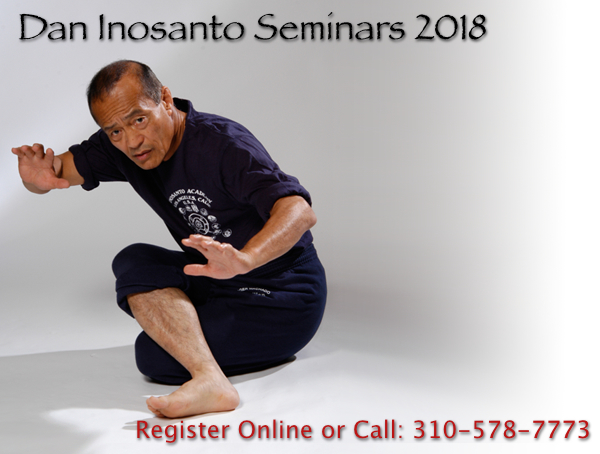 March 2018
March 3 – 4, 2018 | Guro Dan Inosanto | Inosanto Academy | Register Online
April 2018
April 7 – 8, 2018 | Guro Dan Inosanto | Indiana | Register Online
April 14 – 15, 2018 | Guro Dan Inosanto | Virginia | Register Online
May 2018
May 5 – 6, 2018 | Guro Dan Inosanto | Oklahoma | Register Online
June 2018
June 2 – 3, 2018 | Guro Dan Inosanto | Florida | Register Online
June 7 – 10, 2018 | Train With The Legends | Inosanto Academy | Register Online
June 30 – July 1, 2018 | GM Crispulo "Ising" Atillo | Inosanto Academy | Register Online
July 2018
July 7 – 8, 2018 | Guro Dan Inosanto | Missouri | Register Online
August 2018
August 18 – 19, 2018 | Guro Dan Inosanto | Texas | Register Online
Inosanto Academy Special Events
March 3 – 4, 2018 | Guro Dan Inosanto | Inosanto Academy | Register Online
April 21 – 22, 2018 | Grandmaster Ramiro Estalilla | Inosanto Academy | Register Online
June 7 – 10, 2018 | Train With The Legends | Inosanto Academy | Register Online
June 30 – July 1, 2018 | GM Crispulo "Ising" Atillo | Inosanto Academy | Register Online
Inosanto Instructor Camp Dates 2018
By Invitation Only
Inosanto International Martial Art Instructors Association Training Conference 2018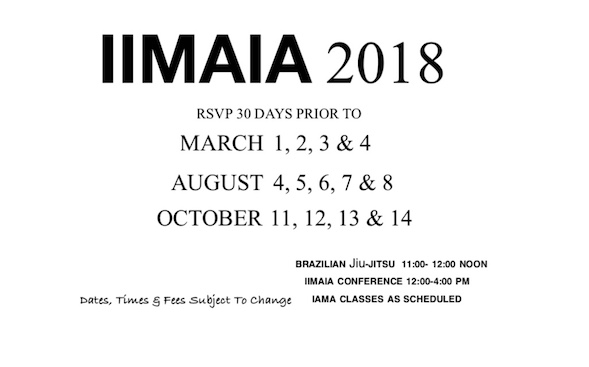 March 1 – 4, 2018
August 4 – 8, 2018
October 11 – 14, 2018
Please RSVP 30 days prior to event. You must be a currently active, certified IIMAIA instructor to attend the instructor camps.
Call: 310-578-7773
Email: info@inosanto.com
Jean Jacques Machado Brazilian Jiu-Jitsu Workshops 2018
March 1 – 4, 2018 | Register Online
Fights & Competitions
See our Fight Site section for fights and competition announcements.
Useful Seminar Links
Francis Fong Seminars:Click Here