(Listed in Alphabetical Order)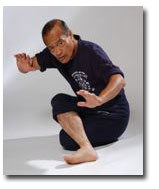 IIMAIA Instructors: Is Your School Listed Here?
Email for further information.
---
Alabama
Gerald Steeley
Gerald Steeley
Florence, Alabama
256-766-1730 | Email
---
California
CKS Martial Arts International
Updated Phone Number: 931-251-1285
Hector Solis is the Founder of CKS Martial Arts International based in Santa Rosa, CA with branches in Mexico and Chile. Hector has been Authorized to teach the arts of Lee Jun Fan Gung Fu, Jeet Kune Do and the Filipino Martial arts by Guro Dan Inosanto. Hector is also a certified instructor in Contemporary Jeet Kune Do, Edge Weapons, Rapid Assault Tactics, Red Glove In Savate, and 2nd Degree Black Belt in Shorin-ryu Karate.
Hector Has taught several seminars in the USA, Mexico and Chile and has collaborated in the training of Security personnel, Police, Special Forces and other State and Federal groups. He currently works as a Security Officer and Defensive Tactics instructor for a private private company in Northers California.
John Maidment
John Maidment
Los Angeles, CA
310-766-2490 | Email
Brenda King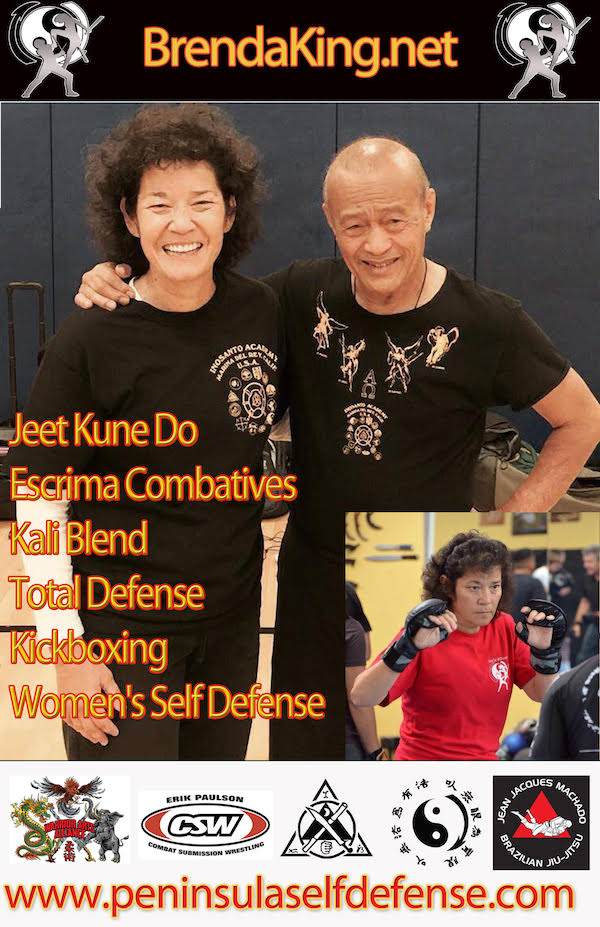 Peninsula Self Defense Training Academy
2677 Bay Road
Redwood City CA 94063
Striking Coach: Brenda King
650-701-7731 | Website 1 and Website 2
PSD Training Academy located in Redwood City, CA is a TOP 20 Bay Area martial arts school. Our 5500 sq ft facility offers classes in Brazilian Jujitsu, STX Kickboxing, Jeet Kune Do, Kali-Escrima, and an amazing Children's Program. PSD offers the very best self-defense courses, classes, and fitness training on the Peninsula.
Brenda King is the Striking Coach, at PSD and has over 30 years of training in multiple martial arts. She is authorized to teach Jeet Kune Do and Filipino Martial Arts under Guro/Sifu Dan Inosanto, Pro Coach in CSW under Sensei Eric Paulson, Purple Belt in BJJ and an Instructor in Dirty Boxing under Guro Daniel Sullivan.
She is activity sought out as a Self Defense Coach to Corporations both in the US and Scandinavia.
She has taught her Total Defense Program to employees of Twitter, Scandinavian Airlines, Rocket Fuel, Gold Medal Family Centers, US Navy Sea Cadets, Law Enforcement, and Security Personnel. You can find her teaching at PSD 4 days a week. Join her on the mat for outstanding classes in the arts of JKD, Kali, Kickboxing and Self Defense.
John Spezzano
Pacific Coast Martial Arts & Fitness
323-363-4680
GUROJOHN@PACFICCOASTMARTALARTS.COM
(added 7/11/2009)
Tandez Academy of Martial Arts – Mountain View, California
Chief Instructor: Adrian Tandez
Contact: Gladys Leung Tandez
Website: www.jkdkickboxing.com
Phone: 408-373-0204
Email: info@jkdkickboxing.com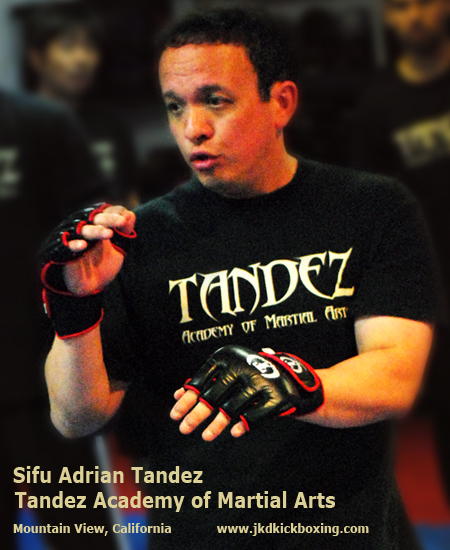 Established in 2005, the Tandez Academy of Martial Arts is the San Francisco Bay Area's premier self-defense training center. We offer classes in Jun Fan Gung Fu / Jeet Kune Do Concepts, Filipino Martial Arts, Kali-Silat, Wing Chun, Muay Thai, and Mixed Martial Arts. The Academy also offers Junior Dragons classes for children ages 5 -12. The Academy's mission is to teach Bruce Lee's highly practical approach to self-defense: simple, direct, and efficient – whatever you do must work in a real, no-rules street fight.
Sifu/Guro Adrian Tandez is the founder and chief instructor of the Tandez Academy. Adrian is a Certified Lee Jun Fan Gung Fu/Jeet Kune Do and Filipino Martial Arts Instructor under Sifu/Guro Dan Inosanto. He is also a Certified Full Instructor under Sifu Paul Vunak. Adrian has over twenty years of martial arts experience.
(added 7/16/2010)
---
Florida
LaVonne Martin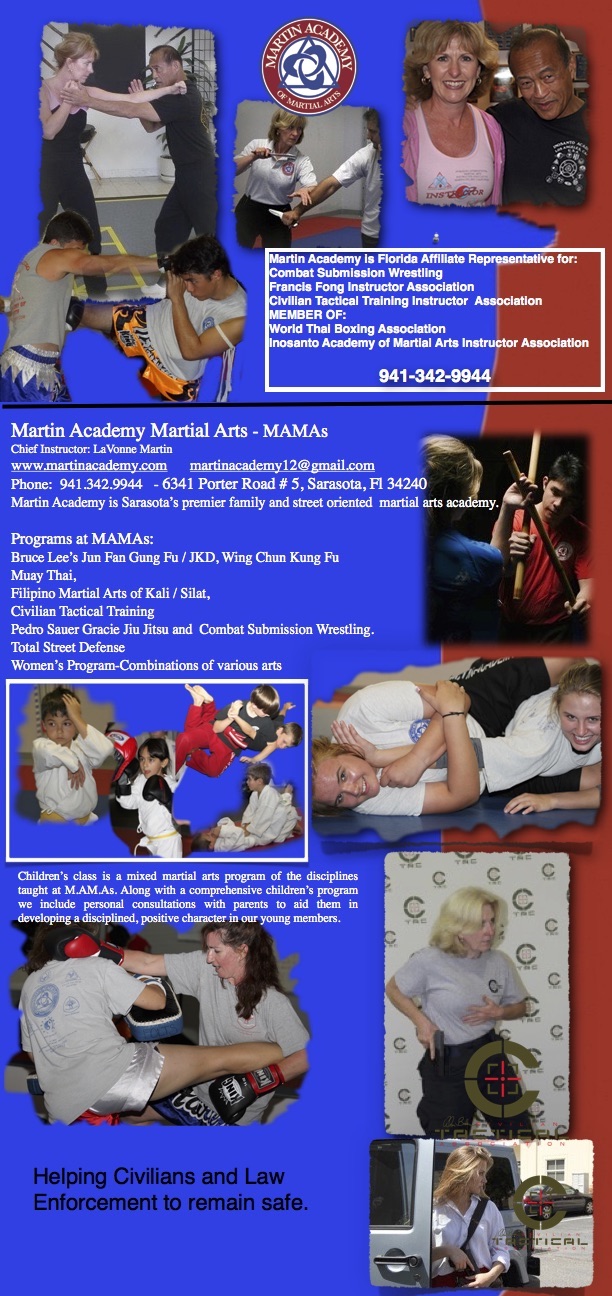 Juan Pérez
Combatives Unlimited
High Performance Martial Arts
2611 Old Middleburg Rd N.
Suite 401-403
Jacksonville, FL 32210
904-435-0777 | 910-797-4000 | Website
---
Georgia
Atlanta Martial Arts Academy – Alan Baker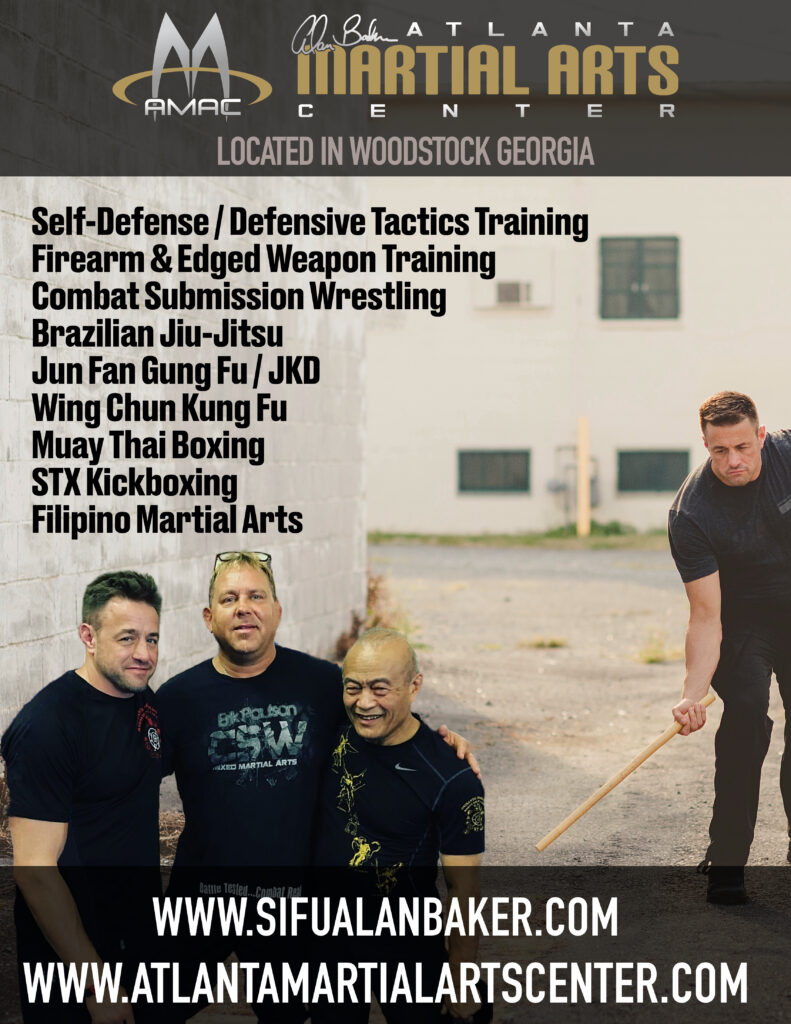 The Atlanta Martial Arts & Fitness Center (AMAC) is one of the premier teaching facilities for reality-based self-defense, martial arts, personal safety, and firearm training in the United States. AMAC offers one of the most complete and certified training curriculums available anywhere in the Southeast United States. They serve Woodstock, GA, Towne Lake, Canton, GA, and Marietta, Georgia. AMAC fosters a safe and professional atmosphere for its students to train. Due to this, you will see many professional adults striving for personal development and growth in our classrooms as they get in the best shape of their lives.
Due to their level of skill and teaching abilities, the instructors at AMAC are consistently flown around the U.S. to train Law Enforcement, government, security, tactical teams, and Personal Protection, specialists. This experience returns to AMAC's proven curriculums and teaching methods to maintain state-of-the-art standards and real-world answers for our students and their families. If you are considering getting into martial arts for fitness or self-defense, call us, and we will arrange a free class or an introductory lesson for you today.
SifuAlanBaker.Com
Atlanta Martial Arts Center
Baker Defensive Tactics
Civilian Tactical Training Association
Academy Phone: 770-926-3030
Email: sifualanbaker@gmail.com
Francis Fong Martial Arts Academy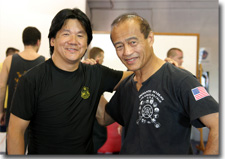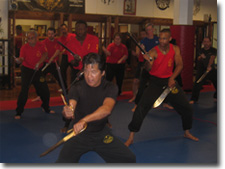 Chief Instructor: Sifu Francis Fong
Francis Fong Martial Arts Academy
11035 Medlock Bridge Road, Suite 10
Johns Creek, GA 30097
Email: FrancisFongAcademy@gmail.com
Website: www.FrancisFongAcademy.com
Phone: 770-623-4997
Established in 1976, the Francis Fong Martial Arts Academy offers classes in Wing Chun Kung Fu, Filipino Martial Arts, Jun Fan Gung Fu / JKD Concepts, Muay Thai, Brazilian Jiu-Jitsu and Combat Submission Wrestling. The Academy also offers Lil' Dragons classes for children ages 4 – 6, and JKD Juniors classes for ages 7 – 12. Located in Johns Creek Walk at the corner of Medlock Bridge Road and Bell Road, the Francis Fong Martial Arts Academy provides effective self-defense and fitness programs to help students reach their individual goals.
(updated 07/29/2013)
---
Illinois
SOUTHSIDE KALI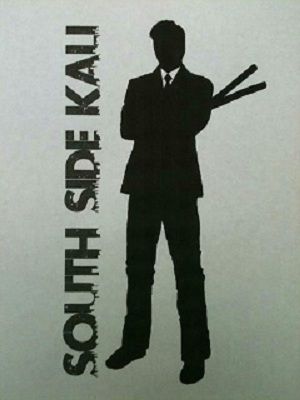 Head Instructor: Marcus Charles
Phone: 708-296-4221
Website: www.marcuscharles.net
Email: southsidekali@comcast.net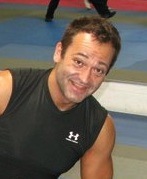 SOUTHSIDE KALI
CLASSES:
Keith Hackney's Combat Academy
Roselle, IL
Randori Ji Jitsu
Mokena, IL
We are a complete Martial Arts and Fitness group that is always on the cutting edge of training whether you want sport, self-defense, personal development or just something to be part of we have a program for you.
PROGRAMS:
Inosanto Martial Art Blend
JKD Grappling Association Larry Hartsell
CSW ( combat Submission Wrestling)
STX (Savate Thai cross) Erik Paulson
PFS ( Progressive fighting Systems) Paul Vunak
MKG ( Minnesota Kali Group) Rick Faye
ISSA & ACE certified to guide you in your fitness needs, weight loss, strength training etc..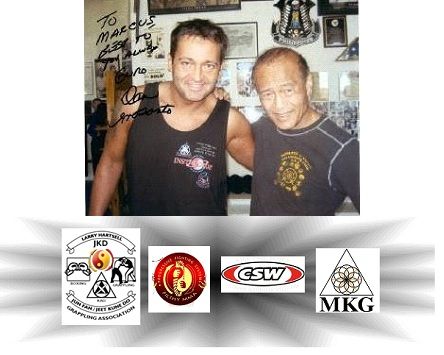 Certification and or training in any or all systems with the South Side Kali twist!!
(updated 04/02/2013)
---
Kentucky
Jason Hawkins
Paducah, KY
Phone: 270-554-4885
E-mail: trmaa@bellsouth.net
School Name: Three Rivers Martial Arts Academy
---
Louisiana
Mossey Academy of Martial Arts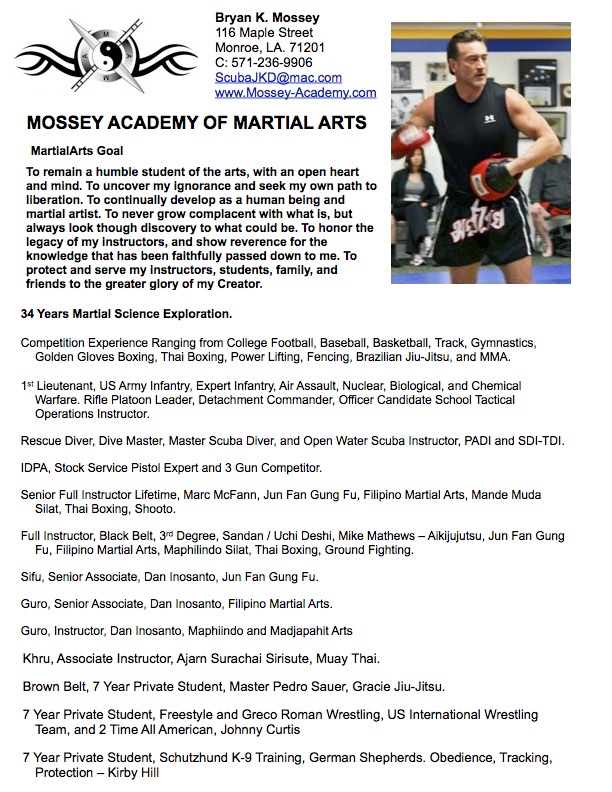 ---
Michigan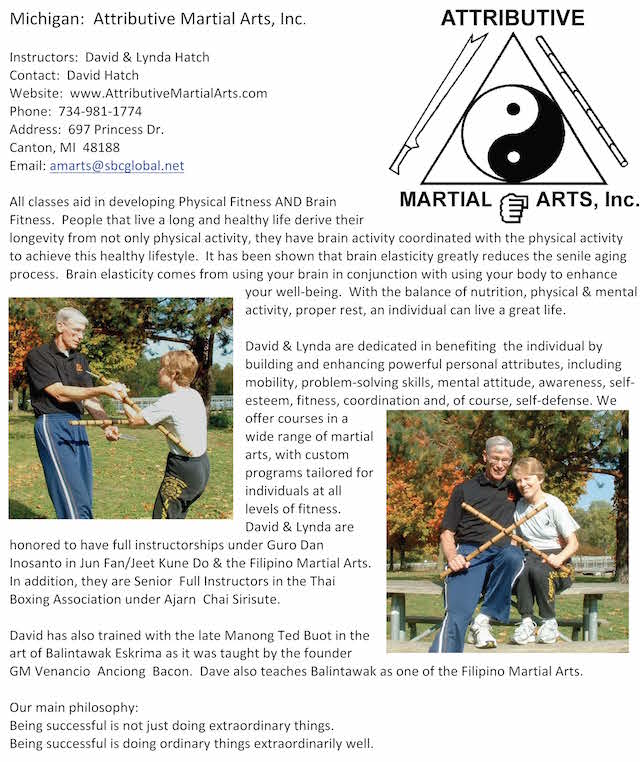 734-981-1774 | Email | Website
---
J Dallo
Are you interested in getting fit and learning authentic martial arts? Look no further than Dallo Martial Arts in Southfield, Michigan!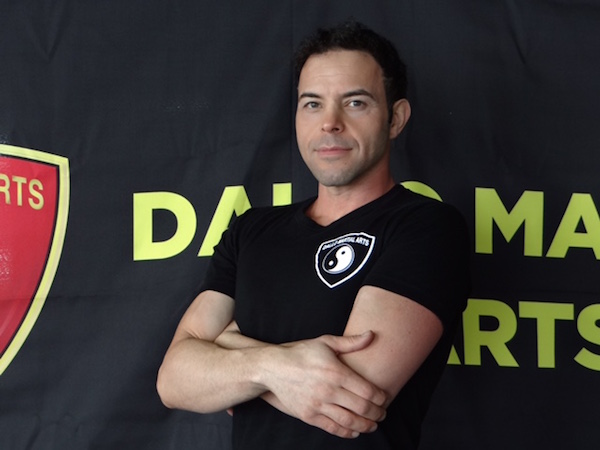 Our Head Instructor, Sifu J. Dallo, has over 25 years of experience in the arts as a practitioner, competitor, and instructor! Sifu Dallo proudly and respectfully holds degress in the following background:
Certified Apprentice Instructor under Guro Dan Inosanto – Kali, Silat, Jun Fan Gung Fu, Jeet Kune Do
Certified Instructor under Sifu Francis Fong – Wing Chun Gung Fu
Certified Associate Instructor under Ajarn Chai Sirisute – Muay Thai
Certified Initiator Instructor and Silver Glove under Professor Salem Assli – Boxe Francaise Savate
Member – Pekiti Tirsia International under Tuhon Bill McGrath
We are serving the Metro Detroit Area in Michigan! Call us for a FREE Introductory Lesson (248) 223-7000!
www.DalloMartialArts.com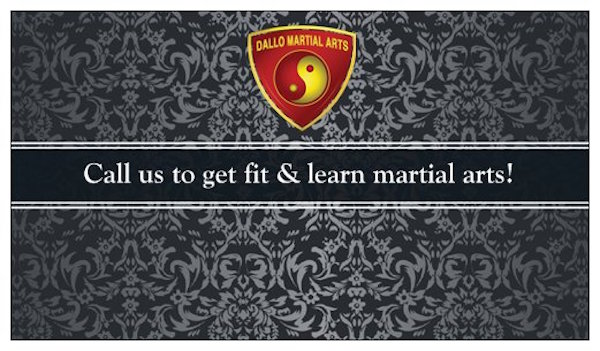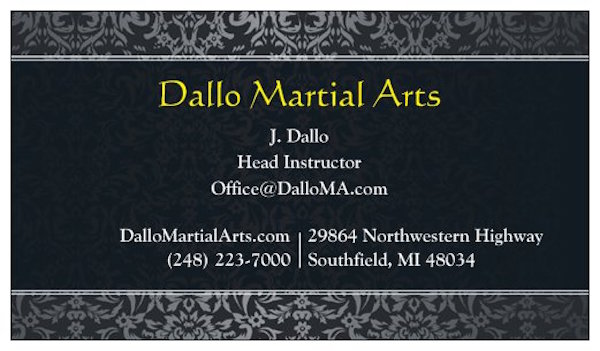 ---
Karl S. Carlysle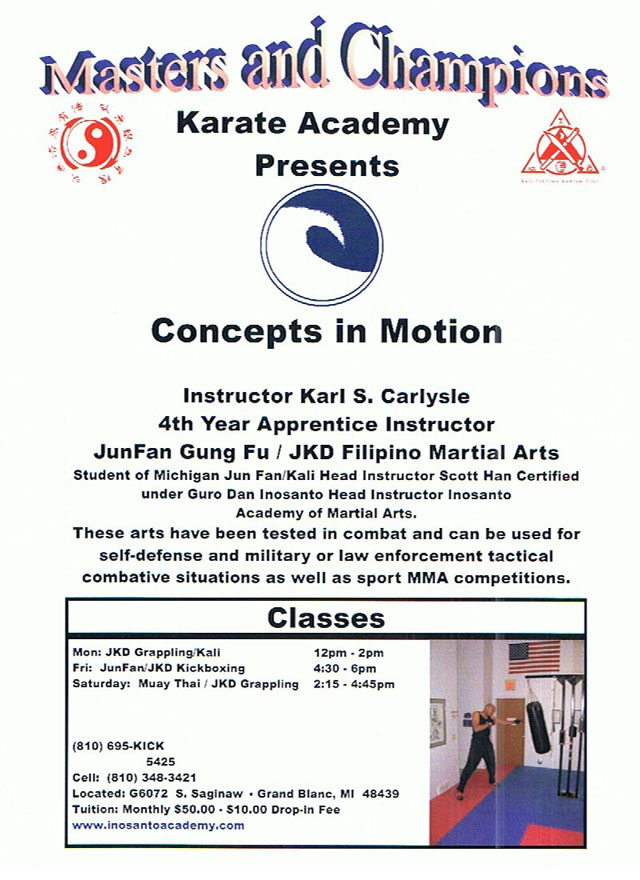 (added 5/27/2008)
---
Minnesota
The Minnesota Kali Group
Rick and the instructors at Minnesota Kali Group are dedicated to the highest levels of training and individual improvement in and through the art. Currently there are two other MKG schools in Minnesota, one in Seattle, WA; two in England and one in Madrid, Spain. The Minnesota Kali Group and the affiliated MKG schools create an environment for every level of martial artist to come learn, train and develop. Classes in Muay Thai, Jun Fan/JKD, Kali, Grappling, CSW, Silat and our Phase (integrated arts) program are available to all students. We also offer classes for women only in both Kickboxing and Self Defense.
---
Rathborne Training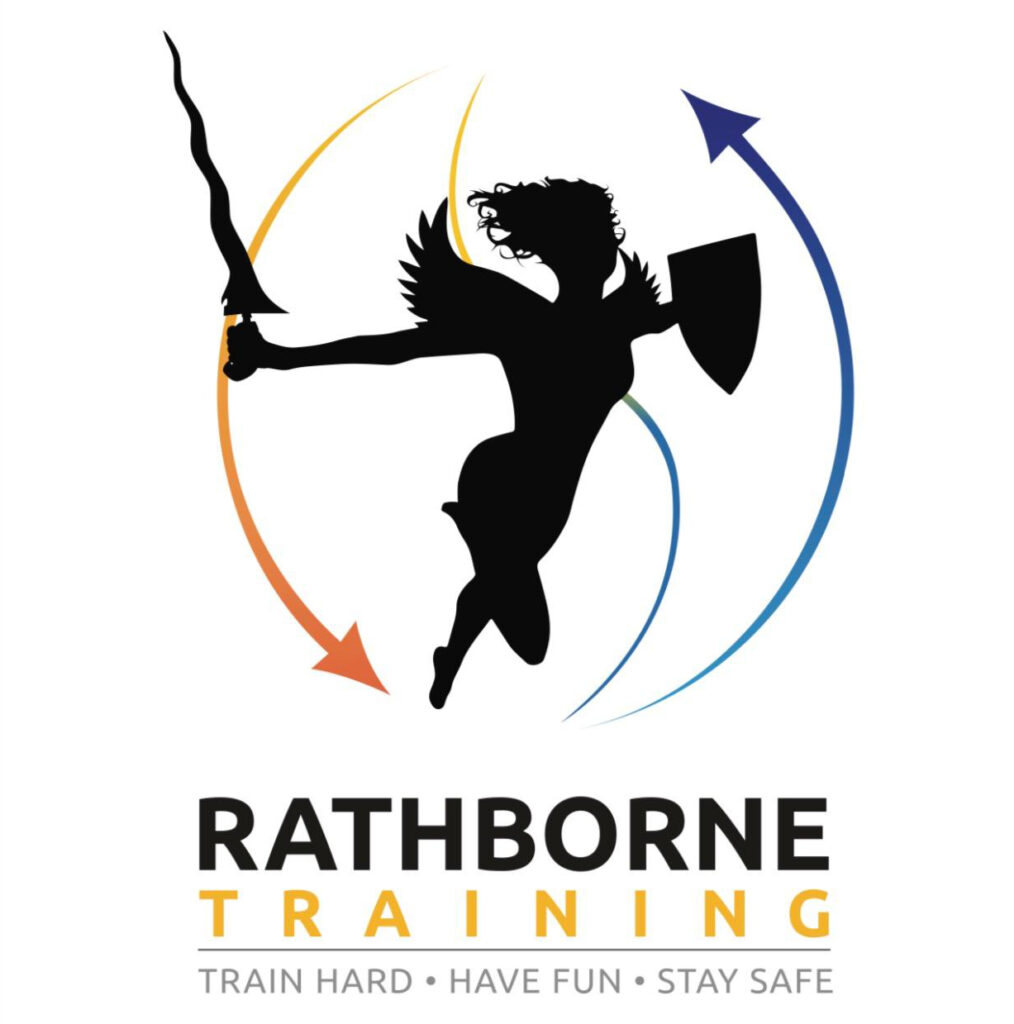 Offering training in Kali, Muay Thai, Jun Fan/JKD, the MKG Method and Self Defense topics to groups and individuals in lesson, class or seminar formats. Our aim is to pass on the best in martial arts training from 30 years of learning from Guro Inosanto, Sifu Rick Faye, Ajarn Chai Sirisute and Sensei Erik Paulson.
Diana Rathborne
Minneapolis, MN
612-805-6903 | Email | Website
---
Nebraska
Omaha Kali Academy of Martial Arts
Dean Truax
Omaha, NE
Phone: 402-218-6067
Email
Website
(updated 8/20/2012)
---
New Hampshire
Guy Chase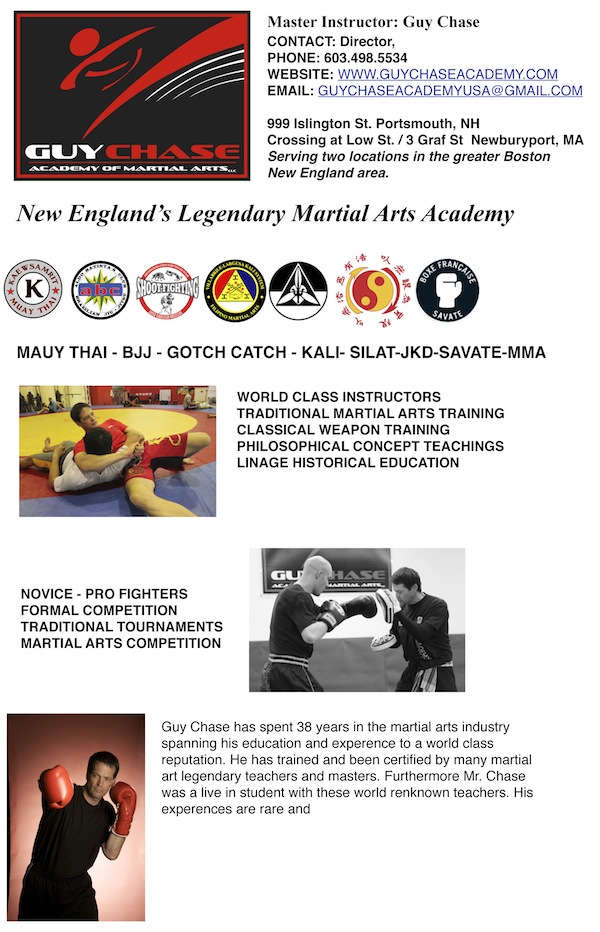 (added 09-20-2013)
---
New Jersey
Tim Coleman
Lambertville, New Jersey
Phone: 609-379-2130
Email: tc@refugeewarrior.com
Jon Nichols
Legacy Martial Arts
Ewing, NJ
Phone: 609-647-8784
Website: www.LegacyMartialArts.com
(added 08/24/2008)
James Simpson
Hamilton, New Jersey
Phone: 609-462-3329
Email: jsimpson@tcnj.edu
---
New York
Chris Thompson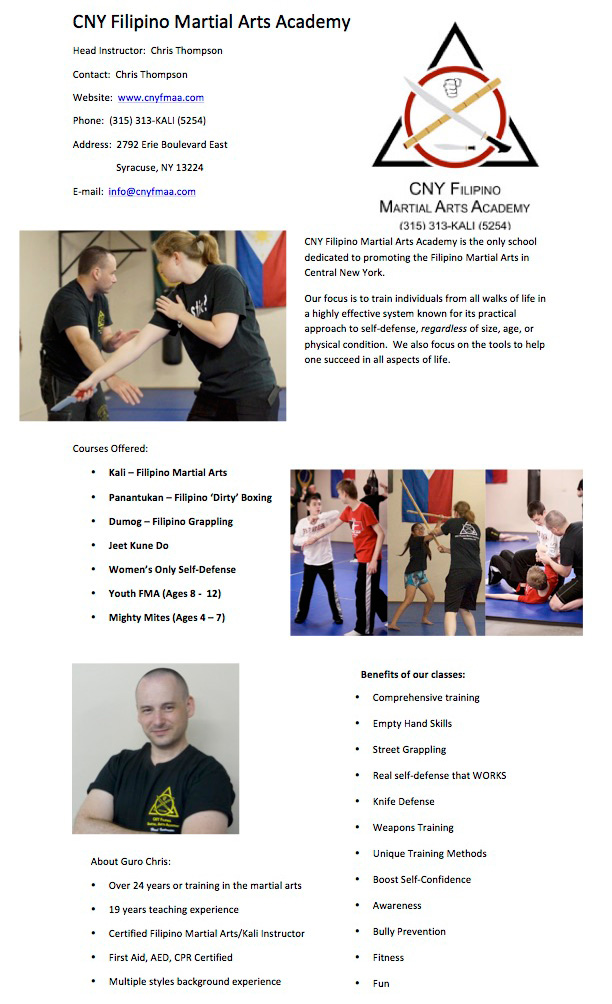 Family Martial Arts Academy NYC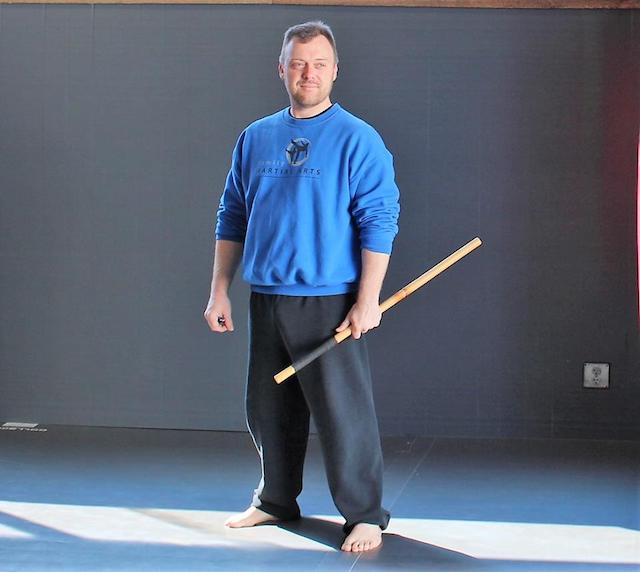 Dr. Bryan Stoops
Family Martial Arts Academy NYC
Midtown Manhattan
(347) 470-5202 | Email | Website
Dr. Bryan Stoops is a martial artist and educator based in New York City. Bryan has over fifteen years of experience as a professional educator, as well as a master's degree and doctorate in education. Bryan wrote his master's thesis on the topic of using the philosophy of Jeet Kune Do to make K-12 classroom teachers functional, and has spoken at UCLA on the same topic.
As a martial artist, Bryan serves the needs of his students with the following credentials:
Senior Associate Instructor in Jun Fan Jeet Kune Do and the Filipino Martial Arts under Guro Dan Inosanto
Guro Level One in Maphilindo Silat under Guro Dan Inosanto
Mandala, 1st Hagdan in Pekiti Tirsia Kali under Grand Tuhon Leo Gaje
Full Dog Brother "Guide Dog" since 2008 and Dog Brothers Martial Arts Instructor under Punong Guro Marc "Crafty Dog" Denny
Associate Instructor in Wing Chun under Sifu Francis Fong
Associate Instructor in Thai Boxing under Ajarn Chai Sirisute
Yellow Glove in Savate under Professor Nic Saignac
Module One Instructor in Applied Eskrima Balintawak under Master Virgil Cavada
Full Instructorship from the Jun Fan JKD Grappling Association
Apprentice Instructor in Jun Fan and Kali under Sifu/Guro Bud Thompson
Official Representative of Guru Tharyana Sastranegara in the art, history, and style of Silat Sunda Buhun
On the subject of Bryan's practice, Sifu Francis Fong shared the following:
"I highly recommend my student Bryan Stoops, one of my instructors in the Wing Chun Association of the USA. When I met Bryan, he was already an accomplished and skilled practitioner of the Filipino Martial Arts, Jun Fan Gung Fu and Silat under Guro Dan Inosanto and in Muay Thai under Ajarn Chai Sirisute. Bryan exhibits excellent discipline, respect, professionalism and skill. He actively pursues continual education in all of the arts by traveling to train personally with all of his instructors. Anyone taking his classes, whether they are young or old, beginners or advanced level students, will benefit from Bryan's knowledge and insight."
– Sifu Francis Fong
Bryan is the founder and head instructor of Family Martial Arts Academy in Midtown Manhattan. Contact Bryan by any of the means above for a completely free, no obligation strategy session, or go to the Academy Website above and schedule a strategy session directly based on your availability.
(updated 05/16/2019)
Kevin Seaman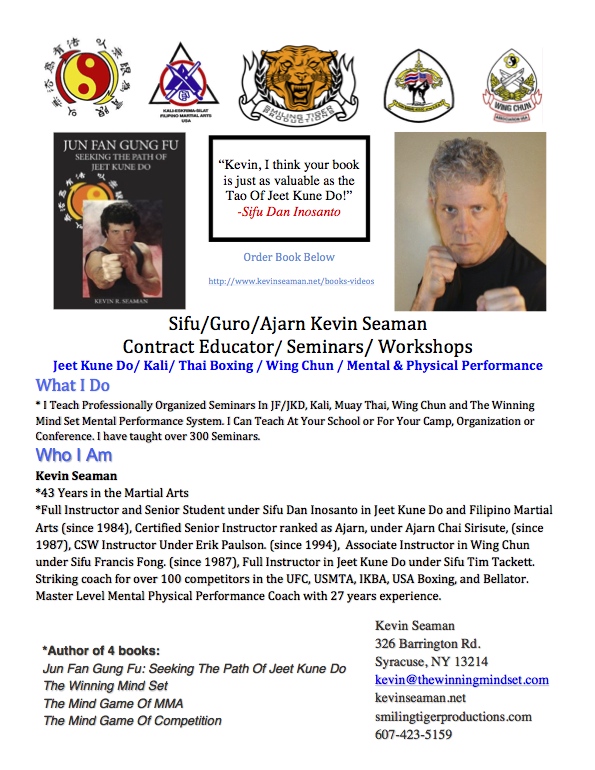 Nubreed Martial Arts Academy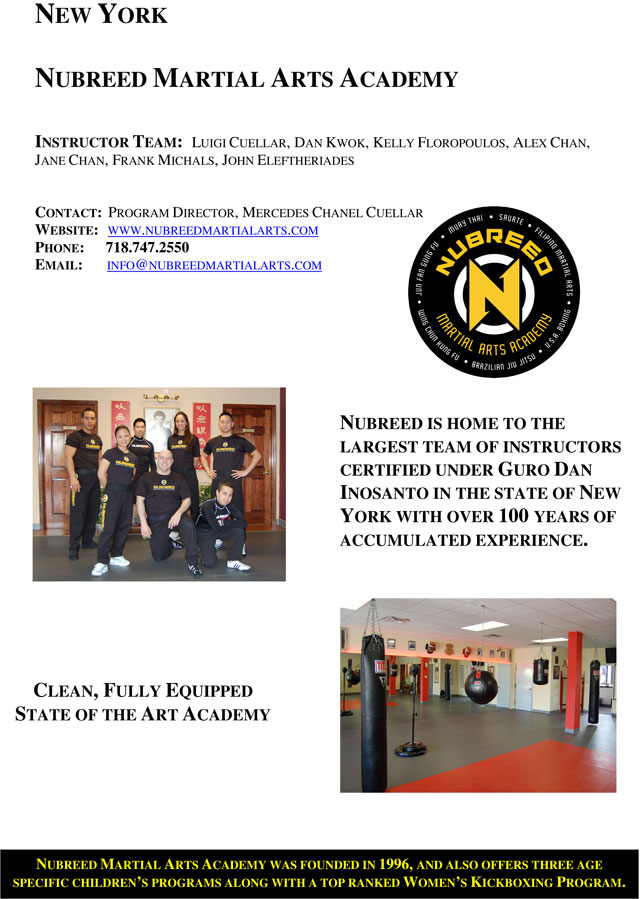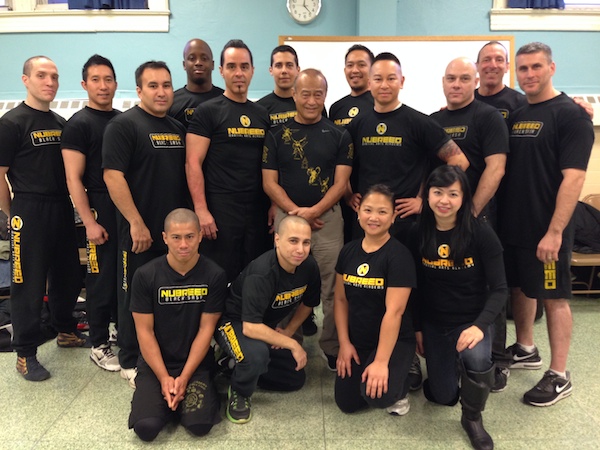 Vital Point Martial Arts
Thomas Macaluso
Kenmore, New York
716-873-2604
Website : http://vitalpointmartialarts.com
---
North Carolina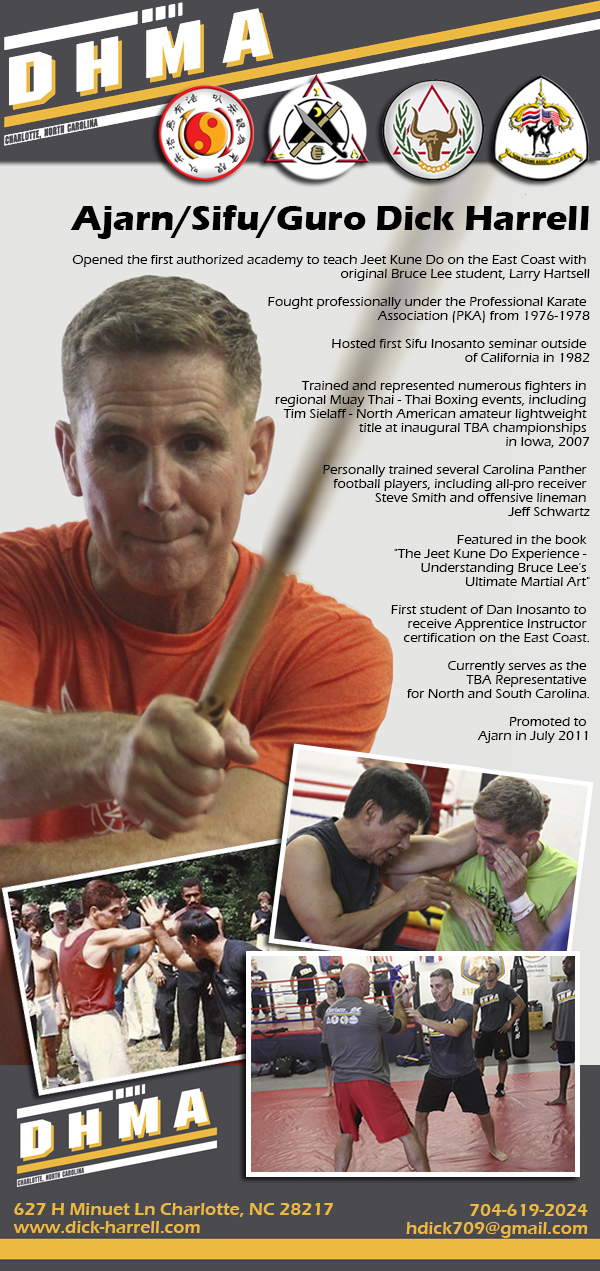 Combatives Unlimited
Juan Perez
Raeford, North Carolina
910-797-4000
Combatives_unlimited@yahoo.com
Mountain Martial Arts Academy
Larry Rice
Asheville, NC
828-650-6593 | Website
---
Ohio
Lee Grow
Lee Grow
Lebanon, Ohio
513-255-4597
traveler9997@yahoo.com
---
Oklahoma
Relentless Martial Arts
Jeff Davis
6202 S. Sheridan Road
Tulsa, OK 74133
918-527-7597 | Website
---
Oregon
Daniels Combative Arts Academy, USA
Guro John B Daniels-JD
13317 NE Eugene st. Portland Oregon 97230
www.Danielscombativearts.com
Jkdbruce@hotmail.com
---
Rhode Island
Derderian Academy of Martial Arts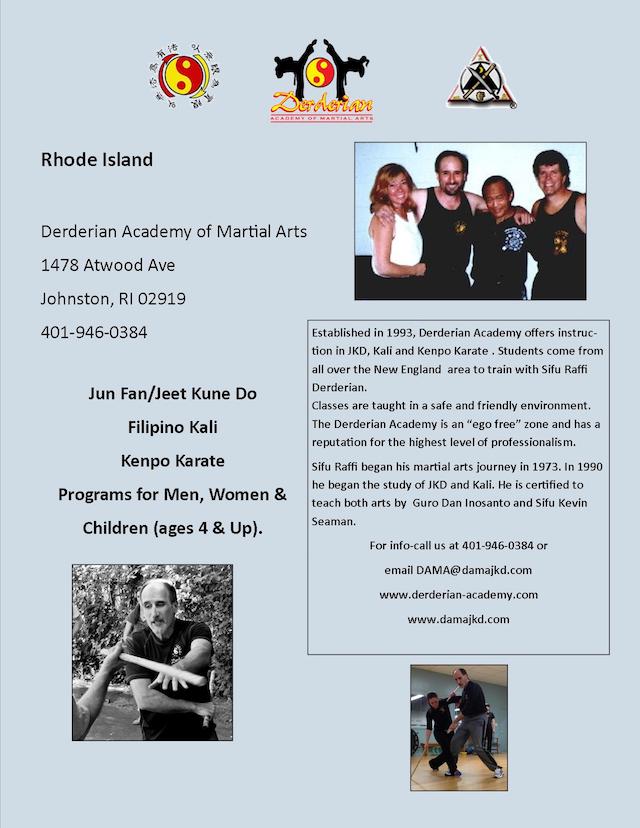 ---
South Carolina
Ethos Combatives
Nathan & Adrian Hayes
Spartanburg, SC
864-381-7837 | Email | Website
Raja Academy of Martial Arts
Harun Raja
Greenville, SC
864-906-0146 | Email
---
Texas
Tactical Systems Network, LLC.
"A Tactical Approach to Extraordinary Circumstance"
Contact: Dwight Wilson
1119 Luke St #113
Irving, TX 75061
Cell: 417 459-0572
Website: www.survivaldefensestrategies.com
Email: sdsguro@live.com
(updated 8/18/2009)
Warriors Way International
Wu Hsin Kuen Academy of Martial Arts
Chief Instructor: Jon Rister
Purcell's Academy of Progressive Martial Arts
Email: PurcellsAcademy@swbell.net
Web site: http://purcellsacademy.webs.com
Phone: 214-395-9041 (metro)
(added 8/11/2010)
---
Utah
Bernales Institute Of Martial Arts
William Bernales
Salt Lake City, UT
801-463-1727 | Email | Website
(added 08-25-2013)
---
Virginia
American Freestyle Martial Arts Academy
Clay Johnson
Phone: 540-962-2730
Email: cj1592@ntelos.net
Bryce, Robert
Leesburg, Virginia
703-732-3392
Email: bondodds@aol.com
Website: Brycedentistry.com
(posted 8/11/2011)
East Wind Academy of Martial Arts
Norris Domangue
Phone: 757-988-0500
Website: www.eastwindacademy.com
(posted: 11/19/2008)
Muhammad's Boxing And Martial Arts – King George
Yusuf A Muhammad
King George, VA | Waldorf, MD
540-775-7555 | Email | Website