(Listed in Alphabetical Order)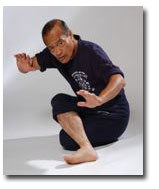 IIMAIA Instructors: Is Your School Listed Here?
Email for further information.
Australia
Progressive Martial Arts Academy International
Chief Instructor: Valencia "Cookie" Vassiliou
Contact: Progressive Martial Arts Academy International
Website: www.progressivemartialarts.com.au
Phone: 3393 9329
Email: enquire@progressivemartialarts.com.au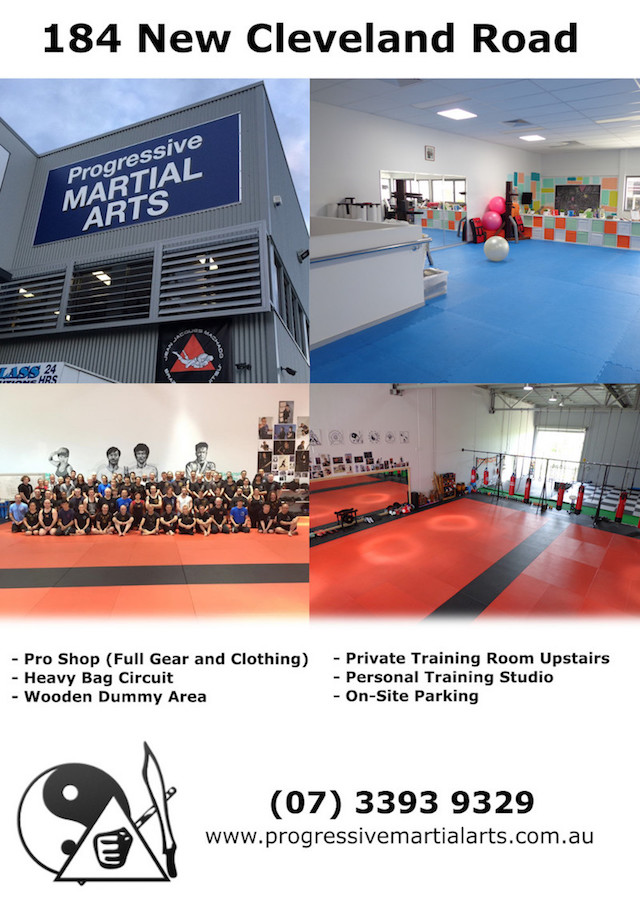 Progressive Combat Systems
Instructor: Arthur Ligopantis
Website: combatsystems.com.au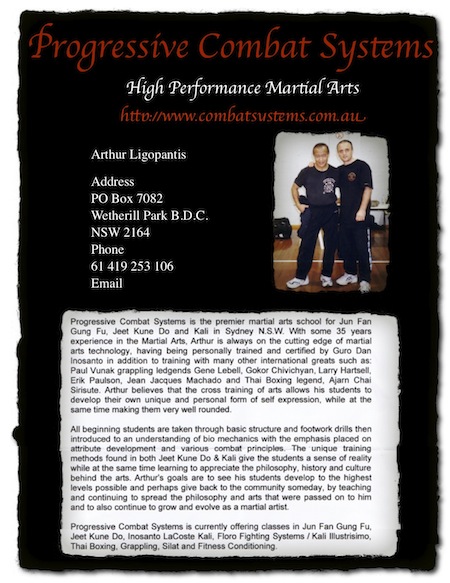 (added 10/6/2010)
Combat Defence Systems
Head Instructor: Gino Vallelonga
Address: Unit 10, 14 Merino Entrance, Perth WA.
Website: www.combatdefencesystems.com
Email: info@combatdefencesystems.com
Sydney Kali Academy
Instructor: Alf Cocco
Phone: 614-194-19941
Website
Austria
Astrid Stahr
Country: Austria
City: Vienna
School: Initial Contact Academy Of Martial Arts
School Phone: 0043-664-559-65-71 or 0043-664-554-72-99
Email: OFFICE@MAIL.ICAMA.AT
(added 10/30/2010)
Jakob Trimmel
Country: Austria
City: Vienna
School: Initial Contact Academy Of Martial Arts
School Phone: 0043-664-559-65-71 or 0043-664-554-72-99
Email: OFFICE@MAIL.ICAMA.AT
(added 10/30/2010)
Belgium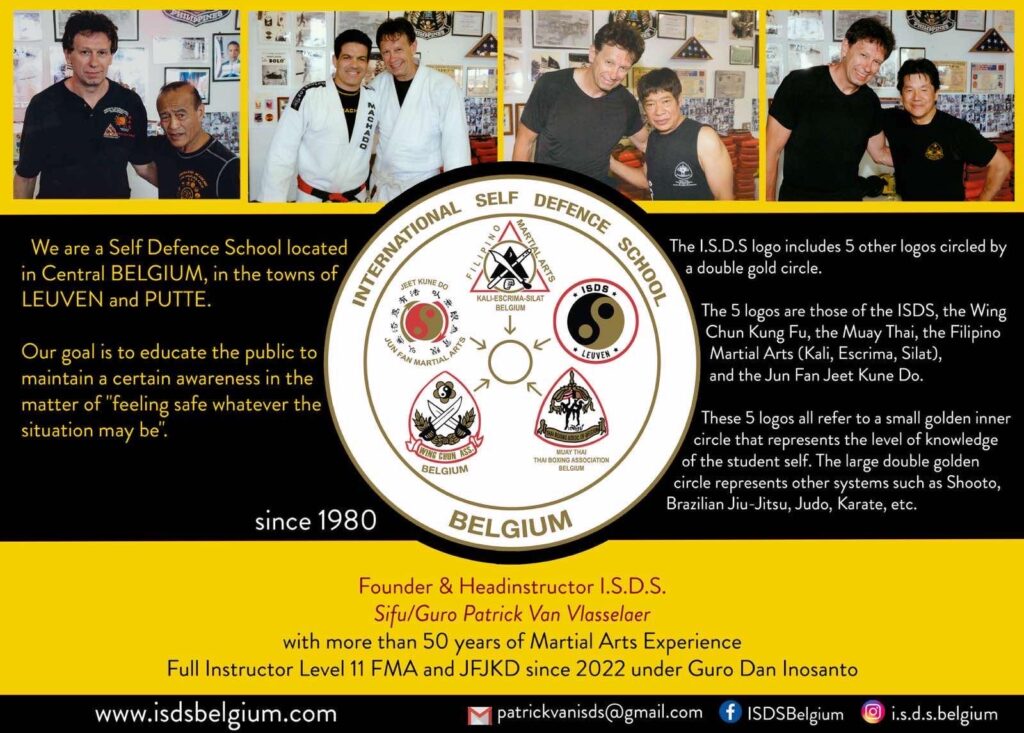 International Self Defence School
Instructor: Patrick Van Vlasselaer
Website: isdsbelgium.com
Email | Facebook | Instagram
Canada
Bob Carver
Phone: 819-771-9758
Diversified Combat Systems
Instructor: Dennis White
Mount Pearl, Newfoundland
709-771-0873 | Email
Eke Academy of Martial Arts
Instructor: James Eke
Victoria, BC, Canada
250-216-2801 | ekejam@gmail.com | www.EkeAcademy.com
Hearst Academy of Martial Arts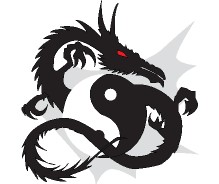 Systems available for study: Lee Jun Fan Gung Fu – Jeet Kune Do, Filipino Kali, Wing Chun, Silat, NOVA, Soft Form, Mixed Striking
Instructor: William Hearst
Instructor: Nick Hearst
Ottawa, ON, Canada
Email | Website
Albert Kwan
Ottawa & Surrounding Region
Toronto & GTA by Appointment
Online Training Also Available
Instructor: Albert Kwan
Phone: 647-631-7388
Toronto & GTA
albert8kwan@gmail.com
Western Canada Martial Arts Academy

Zirger Academy of Martial Arts
Shawn Zirger
927 Dupont St.
Toronto, Ontario M6H 1Z1
Canada
416-892-952 | Email | Website
(added 08-24-2013)
Finland
Sifu/Guro Risto Hietala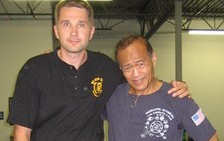 Wu Hsiu Kuen Oulu – Karkatie 190100, Oulu, FINLAND, 35-840-770-1459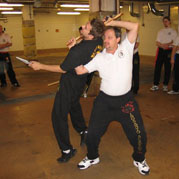 Sifu/Guro Risto Hietala – Head Instructor
WHK rank: Black belt level VI
Jun Fan kung fu: apprentice instructor under Sifu Dan Inosanto
Filipino martial Arts: apprentice instructor under Guro Dan Inosanto
Jun Fan kung fu, Kali, Wing Chun kung fu, Muay Thai: senior instructor at Wu Hsin Kuen Academy of Martial Arts
Wing Chun kung fu: apprentice instructor and Finnish representative of Sifu Francis Fong's Wing Chun Association of the U.S.A
Muay Thai: Finnish representative of Ajarn Surachai Sirisute's Thaiboxing association of the U.S.A

Contact Information / Yhteystiedot
Oulu, Finland
Opettaja: Risto Hietala – puhelin: +358 40 770 1459 – email: carenza@suomi24.fi
Wu Hsin Kuen RY:n tilinumero: 800016-78988057
Osoite: Härkätie 1
Wu Hsin Kuen löytyy myös ircistä, kanavalta #whk (ircnet). Kanava on lähinnä seuran jäsenille, mutta aiheesta kiinnostuneet vierailijat ovat aina tervetulleita.
Saapumisohjeet:
Auto: Kaupungilta päin Limingantietä pitkin käännös vasemmalle Härkätielle, jonka jälkeen heti vasemmalla olevan rakennuksen nurkalta käännös vasemmalle.
Bussi: Jää pois Limingantien autoliikkeen paikkeilla olevalla pysäkillä.
Sisään käydään Atrian toimistorakennuksen vastapäätä olevasta ovesta, jonka jälkeen portaat välittömästi alas. Sen jälkeen seinillä olevat opasteet ohjaavat sinut perille.
Seuraava Wu Hsin Kuen peruskurssi Oulussa alkaa 22.1.2008
Peruskurssi alkaa klo 18 näytöksellä ja esittelyllä harjoituspaikassamme, Atrian vanhoissa tiloissa (Härkätie 1). Näytöksen jälkeen pidetään ensimmäiset harjoitukset.
Wu Hsin Kuenissa (WHK) opetetaan neljää lajia:
Jun Fan kung fu (Bruce Leen Jeet Kune Do)
Wing Chun kung fu (kiinalainen kamppailulaji)
Kali (filippiiniläiset lajit, monipuoliset asetekniikat)
Muay Thai (thainyrkkeily)
Peruskurssilla ei tuhlata aikaa, vaan asiaan käydään käsiksi ensi hetkistä lähtien. Jun Fan -harjoittelu koostuu liikkumisen, peruslyöntien ja -potkujen lisäksi muutamien alasvientien ja lukkojen opettelusta. Kalissa aseharjoittelu kepeillä ja puukoilla on mukana alusta alkaen. Wing Chunissa tutustutaan Siu Nim Tao -nimiseen liikesarjaan, tehdään paljon Chi Sao (sticky hands) perusharjoitteita ja opetellaan lajinomaista kehon käyttöä. Muay Thai -treeneihin pääsee hikoilemaan, kun on oppinut auttavasti lyömään, potkimaan ja liikkumaan.
Lajeja opetellaan aluksi erillään perusteista lähtien, mutta jo peruskurssilla pääsee kokemaan WHK:n kokonaisuutta. Opettamamme lajit lähestyvät kamppailutaitoa eri näkökulmista, mutta tukevat samalla toisiaan. Esimerkiksi Wing Chunin harjoittelu parantaa samalla harjoittelijan Kali-tekniikoita. Harjoitteet ovat tarkkaan valittu, jotta lajit nivoutuisivat yhdeksi kokonaisuudeksi.
Liikesarjoja ei ole, lukuunottamatta Wing Chunia. Suurin osa harjoituksista (90%) tehdään parin kanssa. Peruskurssilla ei sparrata.
Bruce Leen ajatusten mukaisesti yksilö huomioidaan opetuksessa. Siksi Wu Hsin Kuenissa ei rajoituta yksittäisiin tekniikoihin tai valmiisiin kaavoihin. Opettamiemme lajien pohjalta harjoittelija löytää ajan kuluessa oman "tiensä" (Jeet Kune Do) ja kykenee käyttämään taitojaan niin aseellisia kuin aseettomia hyökkäyksiä vastaan. Wu Hsin Kuen tuo Bruce Leen opit, Kalin ja Wing Chunin Ouluun. Nyt sinullakin on mahdollisuus oppia monipuolista ja realistista itsepuolustusta valtuutettujen opettajien ohjauksessa.
Mukaan mahtuu helmikuun loppuun saakka!
Harjoitusajat ma, ke ja to klo 19.30-21.00.
Kesto 2008 kevät
Hinta Ei erillistä peruskurssimaksua. 100 eurolla saa harjoitella kaikkia lajeja puoli vuotta.
Paikka Teatrian vanhat tilat, Härkätie 1. Katso kartta http://www.jkd.fi/school/contact-fi.html
Alaikäraja 16 vuotta.
Lisätietoja Risto Hietala puh. 040 770 1459 ja http://www.jkd.fi. Katso myös peruskursijuliste!
France
Edan
David Delannoy
Phone: 011330148798411
E mail: daviddelannoy.fr@free.fr
Germany
Thorsten Klangwarth
Martial Arts Academy Muelheim
Schultenhofstr. 20, 45475 Muelheim, Germany
Phone: +49-1772411941
Email: thorsten@jkd-muelheim.de
Website: www.jkd-muelheim.de
(added 7/11/2009)
Kalistas e. V. Hildesheim/Alfeld
Thomas Monden
Phone: 011 49 1773381020
Email: t.monden@gmx.de
Filipino Kali – Jun Fan Akademie Int.
Udo Müller
City: Speyer
Phone: 0049-6232-82615
Email: sportakademie@t-online.de
(added 5/27/2008)
Martial Arts Academy Sener
Gökhan Sener
Martial Arts Academy Sener
004917689147332 | Email | Website
Wolf Pack Martial Arts Team
Michael Nitz
Berlin, Germany
Phone: 49-176-830-76-235
Email: WOLFPACK@LIVE.DE
Website: www.protect-yourself.eu
Zanshin Dojo Hamburg
Finn Rathmann / Henning Elfers
Mendelssohnstrasse 15 b, 22761 Hamburg, Germany
Phone:+49-40-89070352
Email: info@zanshin-dojo.de
Website: www.zanshin-dojo.de
(added 12/29/2012)
Sportfabrik Schramberg / A.P.E. – Athletik Training
Uli Winterhalter
Gewerbepark H.A.U. 24; 78713 Schramberg; Germany
Phone: (+49) 151 525 82 976
Mail: sportfabrik@ape-athletiktraining.de
Website: www.sportfabrik-schramberg.de
India
7th Chakra Arts for Self Preservation
Satyaki Gupta
Email: 7thChakraArts@gmail.com
Phone: +91-9830151480
(added 12/29/2012)
Italy
Italia: NPIAMA Italia: Nino Pilla International Academy of Martial Arts – WuLin.it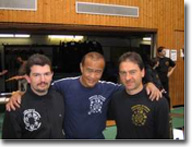 Chief Instructor: Nino Pilla
Instructor: Gianfranco Russo

Gianfranco Russo, Nino Pilla, SiFu/Guro Dan Inosanto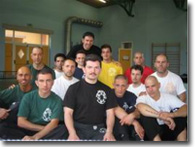 Contact: NPIAMA Italia / WuLin.it
Website: www.wulin.it
Phone: +39-333-5624130
Address: Gianfranco Russo, Casella Postale 19285, Via T. Cardinali, 00173 Roma Italia
Email: info@wulin.it

NPIAMA Italia, branch of the NPIAMA based in Adelaide Australia since 1984, promotes arts and philosophies taught by sifu/guro Dan Inosanto since 1994 holding courses in several cities in Italy: Rome, Mantova, Brescia, Modena, Reggio Emila, Salerno and other.
Since 2002 Npiama Italia hosts yearly seminars held by Guro Dan Inosanto.
Spain
MGMA
Chief Instructor: Sergio Lopez
Ramón y Cajal 83 (Cieza, Murcia)
670 407 133 | Email | Website
Switzerland
Martial Institute Geneva
Christophe Cornaz and Helen Chen
Website: www.migeneva.ch
Phone: +41 79 212 45 73 or +41 79 232 62 34
Email: info@migeneva.ch
(added 8/16/2009)
Academy of Martial Arts Martinez Winterthur
Juan Luis Martínez
Phone: 004179 246 52 88
Email: jkdkali@bluewin.ch
Turkey
Martial Arts Academy Sener
Gökhan Sener
Martial Arts Academy Sener
004917689147332 | Email | Website
United Kingdom
Rick Young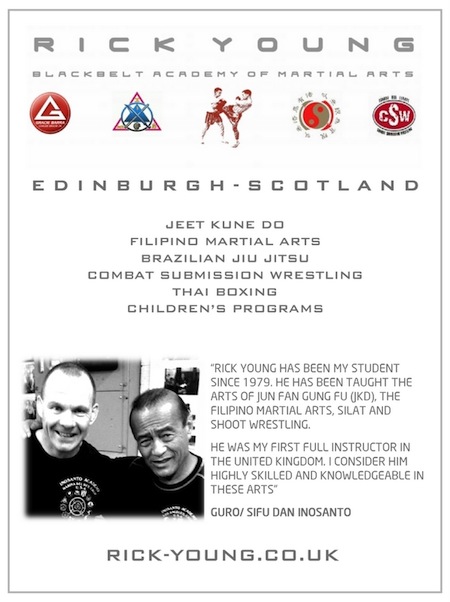 Country: Scotland, Edinburgh
Address: 9 Duke Street, Leith, Edinburgh, EH6 8AG
Phone: 0131 467 9947
Email: rick@rick-young.co.uk
Website: rick-young.co.uk
(added 10/30/2010)