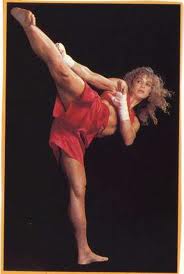 Kathy Long

1992 Black Belt Magazine Full Contact Fighter
Few people can make Bill Wallace admit that he's stuck his "Superfoot" in his supermouth. Kickboxing champion Kathy Long is one of them.
Wallace slammed women's kickboxing as "a novelty," referred to women's matches as "not real fights," and chided five-time champion Long for "not having knockout power." But after the blonde bombshell pummeled Kyoko Kamikaze last year (1992) at the World Martial Arts Challenge in Las Vegas, breaking the Japanese fighter's ribs and bruising her kidneys, Wallace became a believer in Long's skills. "She went out there and looked really good," the gallant Wallace wrote in his monthly BlackBelt column before later apologizing to Long in person. "It is a slap in my own face . . . but that was a good fight."
Long, the renowned "Princess of Pain," has no grudge against her fellow fighter, to be sure, but it's illustrative of Long's power that she could change the mind of even hardcore nay-sayers, who believed that women should step through the ropes only as ring girls. (On another historical note, Long has championed the introduction of "ring boys" for her fights.)
Other female champions paved the way for Long's acceptance in the fight game, but Long used her stunning looks to get spectators' attention, and then kept it with a blend of ferocity, power and skilled technique once a bout began. In the long run, however, she's not out to promote women's kickboxing; she just loves to kickbox. She likes the opportunity to go full-out against an opponent, and she enjoys winning which she has done in 18 of her 20 fights. Her obvious enthusiasm has brought a new audience to the sport, increasing ticket sales whenever she's on the card.