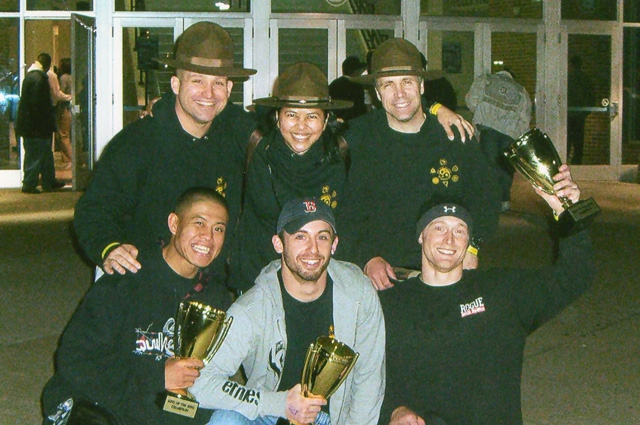 Meet the Fighters from East Wind Academy
(front row from left to right) Sherwin Cadavis, Carl Staley, and Mark Natali, our 3 fighters/winners of the night and of course, the trainers in our Drill Sergeant hats (second row from left to right) Todd Martinson, Yvette Costales, and Jimmy Edwards.
Sherwin Cadavis: just completed a tour in South Korea and was promoted to sergeant while there. After his training at East Wind Academy and winning his bout at the January King of the Ring fight, Sherwin continues to fight in military-organized competitions. He is currently serving in Kuwait.
Carl Staley: will be graduating from Christopher Newport University in Newport News, Virginia this May with a B.S. in Biology. His initial introduction to martial arts training at East Wind Academy has opened many doors, to include receiving a Coach Level 1 title from Erik Paulson under CSW. He was absolutely awestruck by the training available and provided at the Inosanto Academy in California and hopes to continue his martial arts training pending on his future employment situation.
Mark Natali: is currently training as a SERE Instructor in Washington. The training he received as a fighter at East Wind Academy had a tremendous positive impact on his life, from over-all fitness, self-defense, and self-confidence. The discipline and skill sets he has attained as a martial artist gave him the strength to enter such a prestigious and difficult program.
Todd Martinson: is currently stationed in Osan, South Korea. Todd was the glue that held the fighter program together. Todd provided training and support 6-days a week during the ten-week fighter program. He is currently a Unified Fighting Arts instructor under Marc McFann. He also provides martial arts training for military personnel in Korea and looks forward to returning to the U.S. and getting more involved in a school affiliated with the Inosanto Academy.