What Makes A Man Rich: A Story About The Richest Man I've Known:
Sifu Terry Gibson
written by Harley Elmore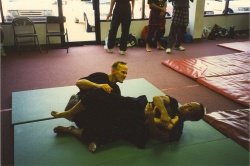 I was watching a movie yesterday about a brave warrior who fought a very long, hard battle and had been mortally wounded in the fight. He soon came to the realization that all he owned were the clothes on his back and the sword in his hands, and he would die a pauper. Thankful for all the warrior had done, the King declared he should be buried as a king: wealthy and rich. The warrior on his deathbed had a sudden revelation.  To be buried as a king would not truly make him rich.  Instead he replied to the king: "A man might be considered rich if someone wrote the story of his life, so that others may learn of him."  The brave warrior was right. By telling the stories of those we have lost, they live on forever and can touch many peoples'  lives. These stories make the people who hear them rich beyond belief.
I write articles and speak of Sifu Terry Gibson often.  I want others to know of him, to feel the same way I felt about him.  I want to remind people of him.  I want them to realize how valuable he was to me and to many others in these arts and of his influence on the arts in which we train, and as a way of saying thanks to my old friend and Sifu.   He was a rich man indeed!
I couldn't possibly count the number of things I learned from Sifu Gibson. The number is immeasurable.   However, I would like to share with you the ten lessons he taught me that have had the most impact on my life. These lessons helped me to become the man and martial artist I am today. I carry them with me everyday and continue to lead my life by his example.
LESSON #10 :  EAT RIGHT, EXERCISE, TRAIN HARD AND LEAD BY EXAMPLE
Sifu Terry was blessed with some genetic gifts; of that there is no doubt.  His diet, workout regime, teaching schedule and never-ending search for knowledge inspired all his students to continue to work toward higher and higher levels of skill.
LESSON #9: TAKE TIME EVERYDAY TO STUDY, READ, WATCH VIDEOS, ETC.
Every day, Sifu Terry got up and watched some kind of martial arts videotape.  It helped him to visualize the movement perfectly.  It helped to hear the lecture over and over again.  It also helped inspire him toward the skill level of the instructor he was watching, weather it was Guro Inosanto, Ajarn Chai or Pak Suwanda.
LESSON #8:  STUDY TRAIN AND MENTOR UNDER THE BEST THE WORLD HAS TO OFFER
As an Attorney, Sifu Terry had the fantastic opportunity to travel and train with the best in the world, including Guro Inosanto, Ajarn Chai Sirisute, Pak Herman Suwanda and many others.  He had the understanding that if given the chance, we would all choose a higher level of quality when it comes to education.  He continued that demand for quality, even when it was incredibly difficult to do so.
LESSON #7: TRAVEL
Australia, New Zealand, Europe, Indonesia, all over the United States.  He thought it was important to travel and grow and meet new people.  He also thought it was important to see new things that were exciting and rewarding.  It increased the depth of his life.  Thanks Nino, thanks Cookie.
LESSON #6:  MAKE EVERYONE YOU MEET YOUR FRIEND
I hear all the time, "The thing that impressed me was he remembered my name."  He sincerely wanted to know you. He knew your name, your wife's name, whether or not you had kids, and everything else about you.  He made you feel welcome when you saw him.  He gave you a hug every time you came into the Academy; something I carry on in my school today.  I still remember the first time he hugged me.  I felt welcome!
LESSON #5: MAKE YOUR FRIENDS YOUR FAMILY
Time can create some strong bonds, even without effort.  If you stayed around very long, a real bond grew between the two of you, and between classmates.  He had a way of  turning students into friends and friends into family. Loyalty was just a natural byproduct.
LESSON #4:  DO WHAT YOU ENJOY FOR A LIVING.  THEN YOU REALLY ARE LIVING, NOT TRYING TO MAKE ONE
He confided in me that he really hated being an attorney.  He decided to teach martial arts, which was so much more rewarding for him.  He loved inspiring others, mentoring them, and leading them towards excellence.  He himself got to travel, learn and grow.  That in itself was enough, but watching someone like Miles Hibbard pass a test, and see the reward in him, was even more awesome!
LESSON #3:  LIVE EVERYDAY LIKE IT MIGHT BE YOUR LAST
This was something I didn't appreciate until much much later.  As his Program Director, I was frustrated by his absence from our Academy while traveling.  I sometimes considered him a little self-indulgent, and couldn't understand why he was gone so much.  Thinking of this as the "privilege of rank" I kept my mouth shut.  Later on, I came to understand this lesson as he did.  It actually should read, "Live your life like everyday might be your last, for one of them surely will be."
LESSON #2:  LOYALTY AND LOVE ARE THE SAME THING
I watched and learned what this lesson was about.  I couldn't decipher it at the time, but as time goes by, I understand it more and more.  Sifu Terry was loyal to Guro Inosanto because he loved him. It was as simple as that.  He would have trained with him if he taught basket weaving.  Now I understand his dedication, loyalty and commitment to his instructors, even in the face of adversity and strife, financial or personal.
LESSON #1:  THE RIGHT MATE MAKES ALL THINGS BEARABLE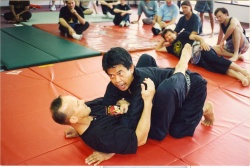 This one is the hardest to write about.  Really, all I can say is it would be the greatest thing we could ever hope for, ever achieve, or ever accomplish, if we could all find our very own Cathy Gibson to be our mate and companion.
To my brothers and sisters who will read this, I apologize for mentioning specific names, for bringing up old memories that do more than make your eyes and heart sting, and for giving just my limited view of this complex and deeply personal man.
My Time with Sifu Gibson
written by Harley Elmore
Even now, three years after his passing, it is difficult to write about him. His presence in our lives was so strong that when I'm at Gibson's I still kinda expect him to walk out of the office and elbow the doorway (as was his unconscious habit). I also realize that many people, even today, will not be able to read this article because the loss was so tragic it still stabs deep, deeper than any of us will admit even to each other.  But in this time of year, I can't help but think of him often and I know many of you feel the same way.  Hopefully, this article will help you remember the good times.
My first impression of Terry was not what he would have wanted. I met him at a Sifu Francis Fong seminar in Tulsa.  I thought his footwork was slow (later I learned to use this Thai boxing footwork and appreciate its value) and that he was way too bulky to do anything but grab you and crush you.  Of course, I was comparing him to Sifu Fong — not quite the same structure.  Anyway, I later learned I was right about one thing: he could grab you and crush you alright!  But that was not all.  He turned out to be everything I ever wanted in an instructor; even some things I didn't want, but needed.
As time went on, I was honored by Terry and Cathy when they gave me the position of Program Director at his school in Tulsa, Oklahoma.   It was a difficult time for me, a lot of changes: new home, new job, new friends, everything.  Without the support of my then girlfriend, Heather, and the constant prodding by Terry, I'm not sure I would have been up to the task.
With their patience and understanding, I became a decent program director.  As time continued, and experience traveled with it, I also became known as a pretty good instructor as well, eventually doing my own private lessons, seminars etc.  I covered Terry's private lesson load (no small feat) when he was traveling the world doing seminars with Cathy.  I was fortunate to be on a few of Terry's tapes he produced, though I only began to feel comfortable  around the third or fourth one.  There were some great outtakes from those days, and some even I wouldn't want to see again.  I remember on Knife Fighting Vol. 2 during a multiple attack sequence, where Terry was feeding me freestyle, one of my counters was a tad too weak for his power and he hit me with the Punyo of his dagger right in the mouth.  We both finished the drill.  Later I asked if we could film it again, and he said that it was good for people to see a mistake; it lets them know that it's ok to mess up themselves.  So if you look on that tape, there I am, learning a lesson in humility as well as teaching, all wrapped up in one nice little video.
Later, I moved away, for what reason I cannot now recall.  During that time, my contact with Terry and Cathy became less frequent, as I was busy trying to make a living.  Then I got a call from Terry.  He was ill.   Darian (the program director at the time) was ill as well, so there was no one to run the school. I quit my job and was at Gibson's the next day.  I have to say that none of this would have been possible without the support of Heather, but that is another long story.
I resumed teaching and worked at the school to help out; with Cathy's guidance re-wrote the curriculum and began to help take care of Terry at home.  ( I moved in with them to help.)  I lived with them until Terry's passing, working at night and staying with Terry, or going to the school, whatever was needed.  One of mine and Terry's favorite things to do was watch videotapes.  We watched some for fun and others for excitement.  We compiled a list of best and worst tapes.  We studied Guro Inosanto and Ajarn Chai.  We discussed the secrets of the world during those days, which eventually lead us to religious beliefs. Terry was himself religious and had good friends who were as well. We continued our study in this area.  Eventually I had the great honor of baptizing Terry, Cathy, and a guy who was to eventually become one of my closest friends, Carl Goforth.  We continued to discuss the martial arts, friends, and family.  He mentioned that he would miss it all. I realize now that it is far more the case that all of it misses him.
I must say that in the years I spent with Terry, I learned more from him in the last eight months I spent with him and Cathy, than I in did in all the previous years. I saw just how strong Terry really was, even in very uncomfortable times.  I learned what bravery really was as I watched Cathy work with him daily, pushing and pushing to continue under the stress.  I realize these are very private moments I'm talking about, but this is to those of you who really knew Terry – to those select few who received some gift to remember him by when he called you in. The blade he gave me is one of my most precious possessions, and the book I read regularly.
Let me say this in closing:  Terry realized after his first brain tumor that he could go any day.  After that, he started living.  He treated every day as if it would be his last.  He traveled the world, built a martial arts powerhouse of a school, and created a loving family that stretched around the world. In the last fifteen years of his life he did what he wanted to do.  Shouldn't we be looking at that as his final lesson to us?  Shouldn't we be looking at his example of how he lived?
And finally, I want to pass on what he wrote to me in the book he gave me to remember him by.  I only do this because it is my wish that you will do it as well:
"Remember the Good Times,
With X-treme Love Terry"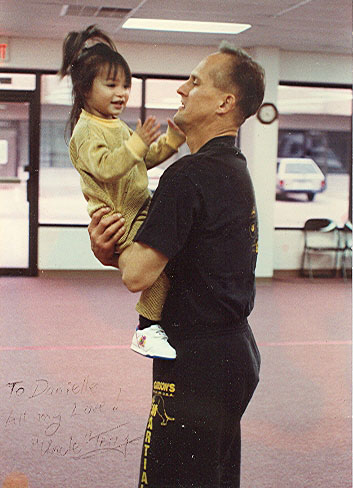 Sifu Terry Gibson seen here with Danielle Inosanto