Message from Master Thomas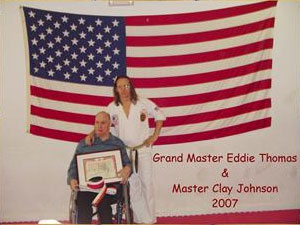 I began teaching martial arts in 1978 at the Virginia Baptist Children's home upon receiving my first black belt at the age of 18.
From my first day as a student it was my desire to become the best martial arist I could possibly be.
I was able to overcome severe health issues from my childhood, as well as travel, train with world champions, become a member of a prominent national team, eventually winning a world championship in 1990.
Over the years I have continued my education and earned several black belts from multiple arts and over the last several years earned hall of fame honors from different countries.
When I opened my school I became a full time instructor in 1982 right out of college. At the time people thought I was insane to try to run a martial arts school as a full time business.
Almost everyone in the country accept a precious few did martial arts as a hobby and had other vocations that were thought of as secure.
When I began teaching for a living my thought was "this is something that I know will positively impact a person's life for the better because it certainly did me."
So I had conviction that I could do good for people while able to do what I personally loved and feed myself all at the same time.
Over this 30 year journey I have seen children who were my students grow to save their own families and bring their children to me as students too.
I have seen students go on to become world champions as well, movie stunt men, marines, doctors, lawyers, and even pastors.
It has been very satisfying to see them prosper from what I have taught them.
I have seen them become part of my extended family and friends that I have cherished for decades.
Unfortunately if you are part of something for this long or just live long enough in general, part of life is also to loose loved ones and have the unenviable position to see them pass away.
30 years is a long time and a person that walks a path for that long will do great things and make tremendous life changing mistakes as well, see amazing, heart warming, heart breaking, humorous, awe inspiring, embarrassing, humiliating, soul crushing, as well as uplifting adventures that make a soul strong.
One such adventure began early on when a young man on crutches and his girlfriend entered my school an asked if I would accept him as a student. The young man's name was Clay Johnson and upon accepting him as a student we forever changed each other's lives from that day forward.
I saw Clay as a person with a tremendous soul but a damaged body, not unlike the way I viewed myself as a teen entering martial arts for the first time.
I knew that with heart a person could overcome hardship and the world could see what the person was all about.
Not where they came from, not how much money the did or didn't have, not their religion, gender, race etc. but their spirit.
To me martial arts is a vehicle to where whatever is in you can be developed much as a brush for an artist.
The art or magic is in you, you just need the brush to make it material and not idea.
Over the past several decades Clay and I traveled all over the country to events such as competitions, training events, exhibitions in order to live the martial arts lifestyle.
At a point Clay and I opened a school in his hometown and over time I turned it over to him and he has ran it by himself from his chair.
As a student Clay was extremely dedicated, hard working and goal oriented. Clay has never allowed anything to stop him from pursuing his childhood dream of becoming the entity and ideal that we both saw illustrated by Bruce Lee in film when we were children.
To me a true martial artist is not an athlete that just beats on people in competitions.
My ideal envisioning of what a martial artist is would be someone that can take everything life has to throw at them and continue to fight the good fight regardless of circumstances.
Every time in my own personal training that I felt lazy, uninspired, or like life was hard or unfair for me I would look at Clay and feel ashamed for my weakness.
From Clay's example I have seen that everyone has handicaps in various degrees, most are of the spirit and not easy to see.
The Japanese say "fall down 9 times, get up 10"
I can think of no one I have ever known that illustrates this concept more than Clay.
For this reason and for his tireless efforts toward self improvement for the past several decades regardless of great personal, physical, and emotional obstacles on December 1st 2007 I promoted Clay Johnson to the rank of 4th degree (Renshi) master level in the art and science of human survival we call American Freestyle Karate.
I am more pleased and proud to call Clay my long time friend, student, and personal inspiration that I can easily articulate.
In the beginning of article I gave a summery of my personal evolution not to talk about me but to illustrate the time and effort of someone that has full use of his body and how hard this life choice is for so called "regular" people. For those of you in martial arts that know how hard it is to attain master level anyway, this only shows more clearly what a monumental task Clay has accomplished where so many countless people have failed.
Clay is truly an original.
Master Eddie Thomas
---
---
On Saturday, April 29, 2006, Clay Johnson =as awarded the Lifetime Achievement award from the American Freestyle Karat= Association. Johnson, who was born with Cerebral Palsy, has operated the A=erican Freestyle Martial Arts Academy in Covington since 1987. He teaches martial arts to students ranging in age from age 10 to age 70.
Click Here for video.
Related: Read the 2003 story by Matt Chittum — His abilities in martial arts have surprised many
His abilities in martial arts have surprised many
Clay Johnson can't do everything he knows how to do, but he can teach it.
By Matt Chittum
November 24, 2003
Mean kids called him "one-ear" and "retarded."
Clay Johnson was born with cerebral palsy. He had no left ear, twig-like legs that were contorted to the right, and only his right arm was fully usable. He didn't like himself, and figured no one else did, either. People call hi= different names now.
Three nights a week, he sits in a wheelchair at the front of a room in a gra= cinder-block building on the outskirts of Covington. Bruce Lee watches fro= framed portraits on the wall. Students bow courteously when they enter Joh=son's martial arts school.
They call him sensei, sifu, guro – teacher.
From his chair, he barks out the school credo, and the students repeat it: "To build true confidence through knowledge and mind, honesty in the heart and strength in the body; to keep friendship with one another and build a strong and happy community; never fight to achieve selfish ends, but to develop fight for right."
Johnson, 42, gives and gets what 20 years of devotion to martial arts have taught him to give himself: respect.
On Friday, Johnson traded his second-degree karate black belt for a rented t=xedo, the first he's ever worn. At a 6 p.m. ceremony in Lynchburg, Johnson was inducted into the American Freestyle Karate Association's Hall of Fame and was named instructor of the year.
The crowd who saw him go up to accept his plaque learned what he knows more than anyone is true: Martial arts changed his life.
Teased unmercifully
"What are you going to do with him?" people would ask Johnson's father when =hey saw the disfigured toddler. "I'm going to keep him," Ernie Johnson would say.
Ernie, a Westvaco worker, and his wife, Smitty, a nurse, did what they could with limited means to help their son. Before he was 18, Clay had 30 surgeries on his legs, feet and jaw, including attempts to create a crudely fashioned ear.
They sent him to public schools, but say they were ill-equipped physically a=d emotionally to deal with a child who has disabilities. He spent most of has time inside his parents' brick ranch in Clifton Forge, the only place he has ever lived.
Schoolmates picked on Clay unmercifully; frequently they extorted him for his lunch money, he said. Until junior high school, he had no friends. "I was lonely a lot, but I was happy," he said.
Johnson roamed the Heights section of Clifton Forge on a three-wheeled bike he peddled jerkily with feeble legs, followed by a mutt dog named Joe. Mostly, he watched television and projected himself into what he saw.
He watched "Starsky and Hutch" and wanted to be a cop. He watched "Kung Fu" and felt connected to its lonely, drifting, misunderstood protagonist.
When he was 10, he saw a sports program about a man with no legs and witnessed the guy whip five able-bodied opponents in a karate match.
Johnson figured maybe he could do that, too. "I thought, if I was able to pop somebody, I'd get left alone."
But except for one Alleghany County sheriff's deputy who trained him briefly no one wanted to teach a man with disabilities. Some even laughed at the suggestion.
The first who didn't was Eddie Thomas, owner of American Free Style Karate in Salem. Thomas strengthened Johnson's upper body, sparred with him like any other student, and entered him in competitions to help Johnson overcome his shyness.
Johnson excelled in the "kato" competition, where contestants attempt to dem=nstrate perfect form. But he never did much as a fighter. His wheelchair make him a human punching bag, Johnson said.
He sought to punish opponents who disrespected him, though. In his first fight as a black belt, he sensed his opponent was babying him. He grabbed the men by the back of the head and knocked him semiconscious with a blow to the face.
"I never expected to win fights," Johnson said. "As long as I get a good show in, and they respect me, that's OK."
Maybe one in 500 of Thomas' students earn their black belt, though not all seek it. Thomas predicted it would take Johnson six years to get his. Johnson made it in five.
Award a 'big deal'
Johnson retired from competition in 1991.
He has run his own school since 1987, but he's never done more than break even on it, he said. It gets him out of the house. It also gives him a place of respect, though that still doesn't come easily.
He sees concerned faces when he meets potential students or their parents: "How's he going to teach me?" they wonder.
Johnson's credentials should be convincing enough. He's a certified instructor in American Freestyle Karate, Thai boxing, Filipino martial arts and Lee Jun Fan Gung Fu, the art developed by the late martial arts legend Bruce Lee Johnson has studied with Dan Inosanto, Lee's protege, who took the helm of Lee's martial arts school when Lee left to make movies. Johnson has trained nine black belts himself.
Still, new students are unsure, so he gives the first three lessons for free.
"It didn't take but a couple of classes to see it [Johnson's disability] doesn't matter," said Terry Clemons, whose son Brian, 7, is in Johnson's beginners class.
"Out of all the stuff I know how to do, I can only do about 10 percent of it myself," Johnson said. But he can still teach it.
Though he can walk on crutches, Johnson mostly stays in his chair. He instructs students verbally on form, occasionally adjusting their position by hand. He addresses everyone as "sir" or "ma'am." But Johnson tolerates no laziness. "If you want to trade places, you take this chair and I'll take your ability and go off," he will tell a slack student.
He mentions Thomas often, telling students how Thomas taught him. It was Thomas who nominated his former student for the AFKA hall of fame, which recognizes mostly East Coast martial artists.
"It's a big deal . . . because it's people recognizing him for his work and tenacity," Thomas said. "His determination is pretty inspirational to a lot of people."
Johnson knows that. But the real benefits of his life in martial arts have been for himself.
Karate didn't save Johnson's life, but it saved it from loneliness and anonymity.
"It actually gave me my identity," he said. "I tried to gauge myself by what I saw on TV when I was little. Now, it's more like, 'I'm me.' "