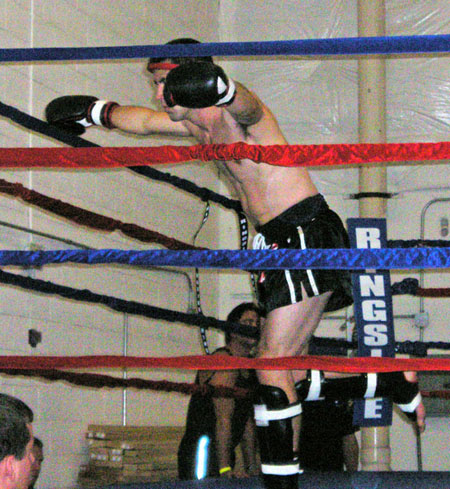 What a great night of fights! Jay fought at 180 and as it turns out, his opponent lied about his background and had previous fights in boxing and MMA. Never the less, Jay walked him down, and had him on the run for 3 rounds. After the first round Jay had a bloody nose and the ref tried to stop the fight. Jay pushed me away in the corner and said "hell no I want to fight". He wiped the blood away and with unbelievable courage went straight to the center of the ring.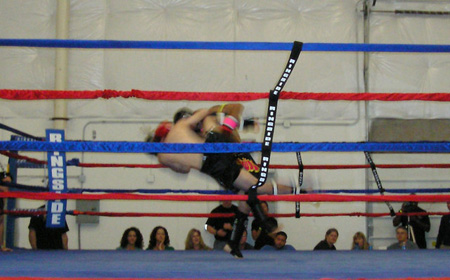 He fought hard but lost the decision to a more experienced fighter. Kru Nishi was the main event as the guy he was fighting came from a highly respected Muay Thai school in Pittsburg. Sit-dragon leg. They have several full time fighter coaches and their head instructor was a national champion in Thailand with 190 pro fights. This was a highly anticipated fight and the crowd was on edge as the fighters performed the Wai Kru. From the first exchange Kru Nishi dominated the fight with constant forward pressure, flying knees, and impressive clinch work. The crowd was on their feet rooting for Kru Nishi who was the underdog.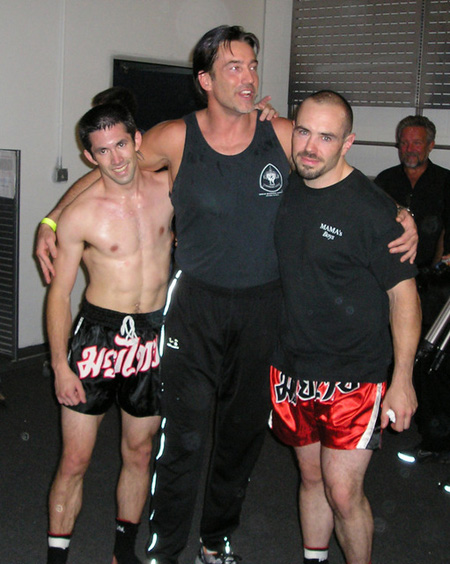 The other fighter pulled off some impressive sweeps after tying up the leg but Kru Nishi was just too powerful for him. It was one of the best fights I have ever seen and the crowd gave Kru Nishi a standing ovation. Both Jay and Kru Nishi represented MAMA, the Inosanto community, Ajarn Chai and the TBA with honor, respect and dignity. I could not be prouder of them!
Kru Moss