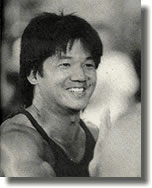 Sifu Francis Fong has over 30 years experience in Wing Chun Kung Fu and is considered by many to be one of the finest Wing Chun instructors in the U.S.A. Beginning his study under Sifu Jiu Wan in Hong Kong back in 1965, he later decided to share his knowledge and passion for training in the arts by moving to the United States. In 1973, he traveled to New York, relocating two years later to Atlanta, GA. It was at this time, he opened the Francis Fong Martial Arts Academy. While working on the movie "Sharky's Machine" in 1981, in Atlanta, Sifu Francis met recognized martial arts legend Guro Dan Inosanto, who later introduced him to the studies of: Jun Fan Gung Fu/Jeet Kune Do and the Filipino martial arts.
He is currently the 'Georgia Representative' for Guro Dan Inosanto with full 'Senior Instructor' rankings in both Filipino Martial Arts and Jun Fan Gung Fu (JKD Concepts).
Additionally, Sifu Francis is an instructor in Muay Thai and is recognized as the 'Director of the Southeastern Region' for the Thai Boxing Association U.S.A. under the direction of Ajarn (Master) "Chai" Sirisute.
Sifu Francis is an honorable member of the Defensive Tactics Instructor Association of the state of Georgia and has been a certified 'Head Police Defensive Tactics Instructor,' whom has trained police officers, S.W.A.T. teams, and " Fort Benning Rangers" in close quarters tactics.
Due to his diverse background and experience, the U.S. Army sought his help in updating Army training manuals to include principles in the arts of: Wing Chun, Muay Thai and Filipino Kali. He maintains 'Special Deputy Sheriff' classification in the Training/Special Operations Division in the state of South Carolina.
Over the years, Sifu Francis has trained many students across the globe, including the personally training of several well-known celebrities and professional athletes. He has also served as a consultant to a wide array of industry-related venues. He has been multi-featured in various martial arts publications, including "Inside Kung Fu" magazine, of which the 1988 feature nominated him for "Instructor of the Year."
Later, in April of 1999, "Inside Kung Fu" magazine featured "Sifu Francis Fong: Teaching Old Arts to a New Generation". (See Articles & Affiliations) In 1999, the Francis Fong Academy gained worldwide recognition by Martialinfo.com for the Golden and Black Belt Award for Web Site design, which it won alongside Jet Li's official site.
Sifu Francis is also well known for his knowledge in Eastern healing tec hniques. In recent years, he conducted "The Winning Mindset Workshop" with Keynote Speaker Jim Brault. This workshop, held for Eastman Kodak Company executives, focused on bridging anatomy and physiology when applied to the dynamics of martial arts.
As a healer, he applies various manipulative techniques using sensitivity, strength, and balance to promote and direct the Qi (chi/energy) throughout the body's Qi channels. In this way, the Qi can flow in a balanced and unobstructed manner, thereby optimizing the patient's holistic health and maintaining a strong sense of well-being. Sifu's clientele includes a diverse background of people, ranging from both sports personalities to executives and pilots for NetJets, Inc.
Additionally, Sifu Fong conducts the popular seminar "Energy for Health – Oriental Perspective," which demonstrates control of energy techniques and using energy to improve the total well being of the client – mind, body and spirit. Sifu's seminar is an integral part of the Labyrinz Human Empowerment Training Workshops, held at the LifeSpan Health Center in Hilton Head Island, SC.
Additional information on the LifeSpan Health Center can be found on the internet at www.labyrinz.com and www.lifespanhealthcenter.com.
Sifu Fong's dynamic teaching style and warm personality make both his classes and seminars a wonderful learning experience for all.