written by Dan Inosanto
Review:  Grandmaster Tony Somera Workshop March 9, 2007
My wife Paula and I, along with the Inosanto Academy, thank Grandmaster Tony Somera and the Bahala Na Martial Arts Association for a fantastic workshop on March 9, 2007 examining key concepts from the Giron System of Arnis Escrima.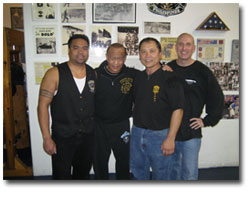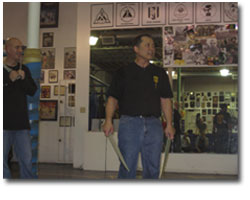 I think of Grandmaster Leo Giron as my second father and I am proud to be the first graduating student from the Giron System.  It is important to me that Manong Leo's art be remembered and carried on.  Having Grandmaster Somera at our school is important for us because it keeps Manong Leo's legacy alive.
During the workshop, as I watched Tony, I recalled the day Grandmaster Giron called many years ago to let us know that he was making his choice and decision to promote Guro Tony Somera to Master.  Paula was on the other line, and we both told Manong how happy we were that he had decided to promote Tony.  We agreed with Grandmaster Giron's decision then, and we agree with his decision now.
As the first student of the Giron Sstem, as an instructor in the Giron System, and as a lifetime member of the Bahala Na Martial Arts Association, I was equally as pleased when another call came letting us know that GME Giron had promoted Master Tony Somera to the rank of Grandmaster.  To pass on the full responsibilities and tradition of an art like the Giron System is not done lightly, but with great care and diligence.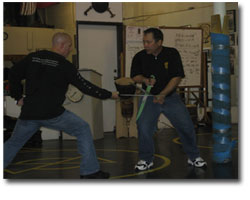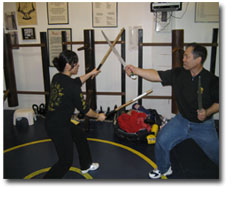 The excellent instruction and true Bahala Na spirit shown at this workshop by Grandmaster Somera is only one small window into the continuing wisdom of Grandmaster Leo Giron.  His legacy is in good hands.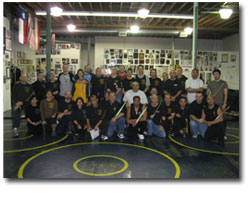 Grandmaster Tony Somera, assisted by Master Kirk McCune, Master Joel Juanitas, and other top students from the Bahala Na Martial Arts Association, proved that the Giron System of Arnis Escrima is alive and well and moving into the future.  I was honored to be part of this event, and I enjoyed playing the true art of the great Grandmaster, Leo Giron.
In closing, I believe Manong Leo said it best:
TO WHOM IT MAY CONCERN:
By virtue of the powers conferred upon me as Grandmaster under the Constitution and Bylaws of the BAHALA NA MARTIAL ARTS ASSOCIATION under Article III, Section 3, I hereby appoint TONY SOMERA as the Grandmaster with such appointment to be effective as of December 1, 1999.
Given my age and health, I believe the exaltation of Master Tony Somera from Master to Grandmaster will provide the organization with little or no transition upon my passing and will insure that the growth and direction of the organization will continue as I have directed during my tenure as Grandmaster.
I shall continue to serve in an advisory capacity as Grandmaster emeritus for so long as I shall live. I intend to appoint a successor Master to fill the void created by Master Tony Somera's appointment to Grandmaster. Such appointment will be made on or before November 1, 1999 to be effective as of December 1, 1999. In the event I make no such appointment in writing on or before December 1, 1999, the power to make such appointment will be transferred to Master Tony Somera in accordance with the Constitution and Bylaws upon his assuming the title and office of Grandmaster.
By virtue of Article III Section 3 of the Bylaws of the Bahala Na Organization, I hereby set my hand and affix my signature this 20th day of the month of August, in the year of our Lord, 1999, as the true testimony to the genuineness of this promotion.
The weight and force of the order of the Master in promoting the welfare of the organization is equivalent to the authority emanating from the Grandmaster.
s// Leo M. Giron
Leo M. Giron
Grandmaster