Thai Boxing Association USA Announcement.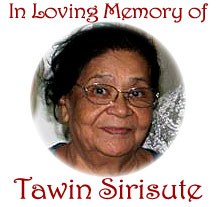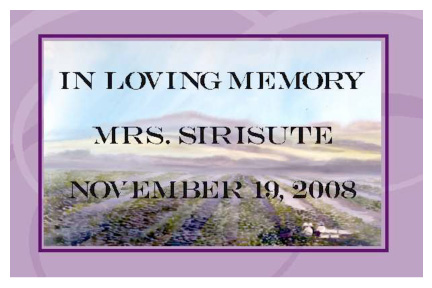 It is with sadness that we report Ajarn Surachai "Chai" Sirisute's mother has passed away.
Ajarn Chai will be in Thailand, returning to the states in early 2009.
Condolences to Ajarn Chai and the Sirisute Family may may be sent in care of The Inosanto Academy of Martial Arts.
==========
==========
(update: 12/10/2008)
I have a request from Ajarn Chai. If all TBA students could please go to the TBA Official Web Site, there is a link to write a message for Ajarn Chai's mother.
These messages will be printed out and put in a book that Ajarn will present to the King of Thailand.
Please take the time to do this for Ajarn Chai.
There is still time to send flowers to the Temple. Artificial wreaths of purple & white flowers are requested.
Jessica at Philip's flowers, the number listed on our web site, will be glad to assist you in delivery of the wreaths.
Philip's Flowers
1-800-356-7257
Please ask for Jessica
Sincerely,
Paula Inosanto
====================
On behalf of Ajarn Chai and his family I thank all of you who have sent wreaths, flowers to Ajarn Chai's mother in Thailand.
Some students have had difficulties with their floral deliveries. I encourage all of you to check with your florist to make sure your deliveries are arriving.
Thank you to all who are sending in your donations for monks prayers. Your cards, e mails and messages are all being delivered to Ajarn Chai in Thailand.
====================
TBA Students and Schools
All individuals are schools who are financially able to send their wreaths and donations are encouraged to do so. The ceremony for Ajarn Chai's mother will last 50 days.
If you can not afford the cost of flowers as an individual (school) please contact your state director or region director. They will be able to get you in contact with your other local TBA schools and affiliates and you will be able to send your wreaths as a group.
Example, you may have the ribbon, banner, that will appear on the wreath read:
TBA Assoc. USA, MN, Il, WI Branches
TBA Assoc. USA Florida & Georgia,
TBA Assoc Australia, Adelaide & Brisbane
If you contact Jessica at Philip's Flowers, 1800-356-7257 she will be able to assist you in getting your wreaths to Thailand.
Thank You
Paula Inosanto
info@inosanto.com
==========
The phone numbers for the temple in Thailand: (02 503 -3411) and (02 503-4556)Buddhist Funeral Rites in Thailand
Funeral rites are the most elaborate of all the life-cycle ceremonies and the ones entered into most fully by the monks. It is a basic teaching of Buddhism that existence is suffering, whether birth, daily living, old age or dying. This teaching is never in a stronger position than when death enters a home.
Monks chant the sutras that will benefit the deceased, and to conduct all funeral rites and memorial services. To conduct the rites for the dead may be considered the one indispensable service rendered the community by the monks.
Mrs. Tawin Sirisute?s body will be kept for 50 days at the temple. Cremations are deferred this long to show love and respect for the deceased and to perform religious rites which will benefit the departed. During the 50 days will monks will pray at the temple for Mrs Sirisute. Your donations will go these monks.
As along as the body is present the spirit can benefit by the gifts presented, the sermons preached and the chants uttered before it. This thought lies behind the use of the bhusa yhong ribbon which extends from the body within the coffin to the chanting monks before it. The dead may thus have contact with the holy sutras. When the body is cremated the spirit is more definitely cut off from the world, it is best therefore not to force that spirit to enter the preta world finally and irrevocably until it has had the benefit of a number of religious services designed to improve its status.
==========
If you need assistance in sending your floral wreaths to the temple in Thailand the following florist has all the information needed and will be able to assist you.
Philip's Flowers
1-800-356-7257
Please ask for Jessica
For students needing additional assistance in getting their flowers delivered to Thailand here is the website for a Florist in Thailand.
Thailand Flower Delivery
Florist in Thailand
ChangFlorist.com
==========
Students wishing to sign a guest book for the Sirisute family may go to TBASantioning.org
==========
Mrs. Tawin Sirisute welcomed many students from all over the world into her home.
Here are some memories shared with us by some, of the many, grateful Thai Boxing Association Students.
Remembering Mrs.Tawin Sirisute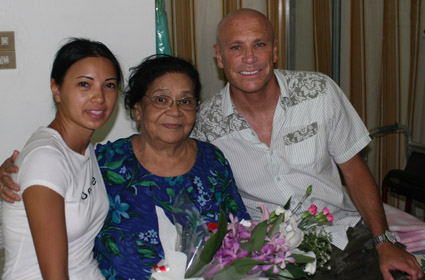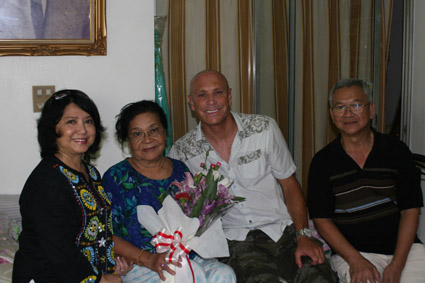 ==========
In Loving Memory of Tawin Sirisute:
I first met Ajarn Chai's mom in 1994. Ajarn Chai's dad was still alive at the time. And what struck me was how welcome we were made to feel at the Sirisute household.
On that first trip when the taxi dropped us off, he saw the plaque on the front gate, pointed to it and said, with reverence; "Royal".
Wendy and I go to the Sirisute household every year, and mom always had a smile for us while we all sat around the kitchen table drinking tea and, through Ajarn Chai as interpreter, reconnecting.
The taxi drivers single word, spoken 14 years ago captures Tawin Sirisute's essence; Royal – yes, but more importantly kind, and always with that great smile.
We will miss her, and will always remember her.
Bob Carver and Wendy Cunning