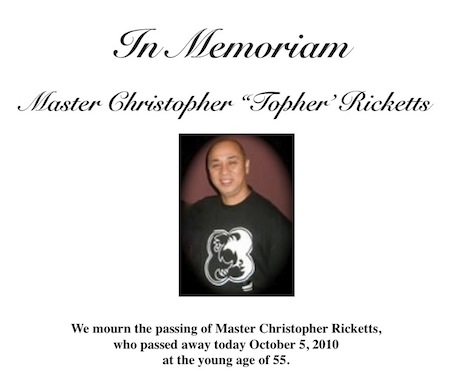 October 11, 2010
Grandmaster Christopher N. Ricketts (March 21, 1955 – October 5, 2010)
It is with sadness and joy that we announce the passing and rebirth to eternal life of Grandmaster Christopher N. Ricketts on October 5, 2010 at 3:02AM.  May his soul and the souls of the faithful departed rest in peace.
Amen.
A loving husband, father, grandfather, son, brother and uncle, he is
survived by his wife Beth Ricketts and sons Jason Ricketts, Bruce Ricketts, Brandon Ricketts and Christopher Ricketts, Jr.; daughter-in-law Jeanne, wife of Jason and grandkids Jacob, Jennell, Josh and Justin; parents Edith and Max Ricketts;  younger brother and sister-in-law, Ronnie Ricketts and Mariz and nieces Marella and Marie; and youngest brother and sister-in-law, Alex Ricketts and Marybeth and nephews Jamie and James.
Master Topher, known world wide as a consummate martial artist of Filipino decent, was loved by many but more importantly, respected by all.  He was one of the founders and the Chief Instructor of Bakbakan International, a fraternal brotherhood of martial artists established in the Philippines in 1968 whose motto is "Matira Matibay" (The Best of the Best).  Concerned with training and passing on his knowledge to students rather than collecting accolades and titles, Master Topher's skills and credentials are impeccable and second to none.
A senior disciple of the revered Grandmaster Antonio "Tatang" Ilustrisimo and one of the "Five Pillars of Kali Ilustrisimo", he remained loyal to the memory and legacy of his teacher and was the highest ranked Ilustrisimo instructor in the United States.  A close friend and training partner of the late Punong Guro Edgar G. Sulite who founded Lameco Eskrima, he was also the highest ranked Lameco instructor in the United States.  With teaching credentials in several martial arts systems including Ngo Cho Kun (5 Ancestor Fist), Sagasa (Filipino Kickboxing System), as well as being a professional boxing trainer and fight choreographer, his was a life befitting a true warrior.
A public viewing, requiem mass and farewell offering (Halad) will be held on Thursday, October 14, 2010 from 4:00PM to 8:00PM at the California Cremation and Burial Chapel, 5880 El Cajon Blvd, San Diego, California 92115.  In lieu of flowers, donation to your favorite charity in the name of Grandmaster Christopher N. Ricketts will be greatly appreciated.
All members of the warrior class are encouraged to come in uniform to pay their last respects to one of the best of the best.
Sumasaiyo at Maraming Salamat (With Sincere Thanks),
The Ricketts Family