June 14, 2008
Birthdays!
June 11 – Daniel Lonero
June 16 – Jeff Imada
---
June 3, 2008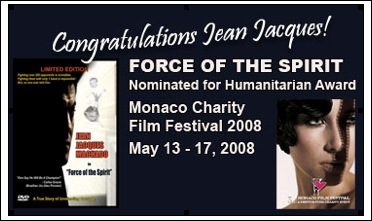 "Force of The Spirit" accepted into the Monaco Charity Film Festival 2008!
Jean Jacques Machado's Best Selling Documentary "Force of The Spirit", will be competing for the Humanitarian Award at the Monaco Charity Film Festival 2008. Jean Jacques himself will be traveling to Monaco to attend the event on May 13 -17, and hopefully come home once again a champion!
For more information about the event, please visit www.monacofilmfestival.org To see the nomination, click on "FILMS 2008", then scroll down to "FEATURE DOCUMENTARIES".
Jean Jacques featured in Spring 2008 Masters Magazine!
The Spring 2008 issue of Masters Magazine is out and features the Brazilian Jiu Jitsu Technical Dossier with Jean Jacques Machado.
A series of sweeps and submissions from the closed guard. Pick up your copy today!