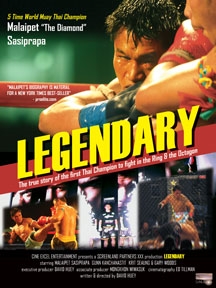 Legendary, a documentary about Malaipet "The Diamond"
Sasiprapa, a Thai boxer who trained in Muay Thai in Thailand as a boy, then went "inter", fighting in America.
The film is directed by David Huey and is being marketed by Cine Excel Entertainment.
httpv://www.youtube.com/watch?v=0N-jJKtRyX4
http://www.cineexcel.com/legendary/index.html
Cast
Gunn Kanchanastit,
Malaipet Sasiprapa,
Krit Saeung,
Gary Woods
Director(s)
David Huey
Writer(s)
David Huey
Producer(s)
Mongkhon Wiwasuk, David Huey
Synopsis
An inspiring true story that spans eight years & five continents. Malaipet retires after losing his Championship title to live with his father on his struggling rice farm. For this Thai boxer, being sent away to a Muay Thai camp meant leaving his home at age 12. For his father, sending his son away meant giving him a chance to fight for a better life. Now back home, he starts rebuilding a relationship.
An American fight manager recruits Malaipet to come live & fight in America. Making a tough decision, Malaipet leaves his father once again.
Malaipet begins his journey, easily winning fight after fight. While Muay Thai fighters are looked down upon in Thailand, they are heroes & stars throughout the world. The sensational & flashy life style of America take his toll on the boxer. From excess drinking to excess women, to no training, he loses as many fights as he is winning. Desperate for money, Malaipet accepts an offer to fight in Mixed Martial Arts in the Cage. He thrills the audience & secures a national TV contract.
Feeling homesick & patriotic, Malaipet accepts to fight for his country in battle billed as "Holland vs. Thailand".
Now back on the top of his game, he is given a chance to fight for the World Title again, but this time against a fellow Thai teammate and friend, Yodsaenklai.
Malaipet loses his bid for the championship & is broke once again. After investigating Malaipet's bank accounts, his manager discovers all these years Malaipet has been sending his fight purse back to his father. With this final championship fight, he finally pays off his father's farm.