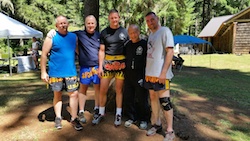 Northwest Muay Thai Camp 2014
By Jeff Davis
I attended my first Oregon Thai Camp this year. After 28 years of training with Grandmaster Chai it was about time. Financial, personal and family issues had prevented me from attending in the past. Also, I would be a liar if I didn't admit that four days of extremely arduous training outdoors may have contributed to the delay.
I traveled with my friends and fellow instructors Jack Massey and Brandon Bennett. We left Tulsa on Tuesday and made it to Portland around 3 p.m. Pacific Time. When we arrived the day before the camp we were delighted to see Guro Inosanto. Guro was very happy to see us. After exchanging greetings Guro asked me how old I was. I replied that I was 55 to which he responded that the camp was "challenging" and I should "go slowly". Well I had of course heard many descriptions of the camp by numerous people so I was not too alarmed. I was in pretty good condition and had prepared as best I could for the camp. Still I admit that this exchange did leave me with a slight sense of foreboding. This was probably due to the fact that Guro's tone felt like the tone of a concerned parent. We also met two of Guro's students, Daniel and Marie. They were both very nice and as I found out later, very talented.
That night we attended an orientation session at the camp. The camp was being held at a county park, Camp Henderson Oregon. We completed registration and were given information concerning the schedule, rules and other issues including the warning that there were bears and mountain lions in the area. Did I mention that this camp is being held in the middle of a primeval forest? Well I'm a city boy and this did nothing but add to my list of fears about this camp. My worst fear was that I would work my butt off for four days only to be eaten by a bear on the last day.
I saw many people there I knew and the Camp Instructors that was in attendance was impressive. I knew most of them or knew of them and I was in awe. I was told that about 120 people would attend the camp. Before adjourning we were told to be back at the camp no later than 6 a.m. for the morning run. Ouch! No one mentioned that the camp started this early and our hotel was 35-40 minutes from the camp. Needless to say we went straight back to the Hotel and hit the sack.
Day one:
Rose at 5 a.m. and made it to the camp before 6. At six the camp bell rang 15 times, signaling that everyone should be up and on their way to the main building. Promptly at 630 Ajarn Greg Nelson led us through warm-ups. The run then started. I am not a runner. I am at best a slow jogger. The first run was the worst because I did not know the course and was not sure how long it would be. I DID know we were in the mountains. The run started downhill and wasn't too bad. Then of course there would have to be an uphill. It was steep, especially for a boy from Oklahoma. After what seemed miles I saw the turn around. Standing at the turn around was Guro Inosanto with a stop watch. As I approached him he said, "Go slow, pace yourself". Well, I was all about that, believe me. The rest of the run was not too bad. In fact it was probably closer to two miles than three. I felt pretty good at the end and was ready for the rest of the day.
It rained most of the first day so we worked out in the main building. The main building is an open wooden structure like you see at most camp grounds. It was quite large, with room for a large central hearth area, flanked by two large rooms big enough to hang twenty four bags. We divided into three groups and rotated stations, doing four rounds at three minutes each. We did a number of complete rotations, I lost tract. The morning session ended after about two and a half hours and we broke for lunch. We had an extended lunch due to the rain then Guro Inosanto gave us a review for the written test. As soon as the review was over Grandmaster Chai shocked everyone by telling us that the actual written test would begin in ten minutes. No time to study. I was told that this was unusual for the first day but Grandmaster Chai was wisely using the rain delay to get the test over with. This was much to the detriment of those who had not already prepared for the test. We got thirty minutes. For those of you that have taken this test, you know this is not enough time. I barely finished it in time and had no time to double check my answers, many did not finish. You could miss fifteen. I missed eight. Many missed in the fifties. These were obviously those that had not studied at all or had never seen the test before.
In the afternoon we did more indoor work with more rounds on the bags. It was obvious that Grandmaster Chai was not happy with the rain and it had somewhat disrupted his plans. I don't believe he felt we had gotten an adequate workout and many experienced campers and instructors expressed the same concern. Everyone seemed to be in dread of finishing the day with a monster session of "Bodybuilders". For those of you who are not familiar with this medieval torture it is basically a modified burpee with eight movements. First you sprawl to push up position then you while in the up position your pop your feet wide then back together. From here you completed a push up then popped to your feet with a jump.
The rain finally stopped and we were told to line up and begin counting from one to five. Experienced campers knew this meant that bodybuilders were imminent. After counting off we were spread out facing down the large hill leading up to the main building. A girl next to me said that on one occasion last year they had done 160 bodybuilders in one session. I thought her daft. I soon received an education. We did groups of ten. After what most considered an easy day I knew I was toast after the first set. I completed the first two sets doing my usual slow, ugly version of the exercise. After that I resorted to a modified version and was lucky to get seven of the ten even with that. This continued on for what seemed an eternity of pain. My good friend Ajarn Mike Parker, one of the camp instructors told me, "just get through and don't stop". That little encouragement was enough to get me through. We finally stopped. I looked at the field spread out in front of me down the hill. The field seemed to be strewn with the broken bodies of those that had fallen out due to injury or fatigue, however within a very short time all rose to their feet, their wills not broken. The total number of bodybuilders we did is disputed but it was somewhere between 160-200. My count was 170 but I did not complete near that many and was happy just to have made it to the end. If you are ever bored and feel like a real challenge try doing bodybuilders down an incline. End of day one. 12 hours
We dragged ourselves back to the hotel, wolfed down delivery pizza and fell into bed.
The next three days played out in similar fashion. We either did circuits or did techniques up the hill with a run back down to the bottom. In the afternoons we were treated to boxing training with Ajarn Leonard Trigg. The days were long and got longer. We went 14 hours the second and third day and 16 hours the last day (This included testing and the Closing Ceremony). We did three two and a half to three hours sessions daily and everyone was exhausted at the end of the day. As the days wore on we all seemed to become accustomed to the hardships. This is evidently a common phenomenon and was even commented on by several of the instructors.
On Saturday, the last day we did several training sessions and had testing and promotions. Those testing for Apprentice, Full and Senior Instructor only had to perform the Wai Kru. We did that in the morning after the first session. After we all completed the Wai Kru we were honored by the Instructors and students and officially received our promotions. In the presence of so many great Instructors I felt humbled to receive my promotion to Ajarn. Those testing for Beginning Level Instructor had to wait until the end of the day. They of course would have to do two rounds as well as the Wai Kru. I will not get into the specifics of how the two rounds are administered as most readers will be familiar with the TBA Beginning Test. For those not familiar let us just say that it is extremely difficult as the feeder simulates a real opponent and there are a minimum of kicks and knees that must be completed during each round. To say that taking this test after four days at Thai Camp is extreme would be an understatement. Those that did, performed admirably and all survived to be promoted. They all have my respect.
We finished the day with the Closing Ceremonies. The highlight of the Closing Ceremonies was Ajarn Rex's magic show. It was hilarious as well as amazing. The Camp closed with the presentation of certificates and awards. When I was presented with my Camp Certificate Grandmaster Chai honored me with a few words and accepted me as one of his Senior Instructors. It was one of the best and proudest moments of my life. It was made all the better by having Guro Inosanto there to share it with me. Without him I surely would not have had this experience.
In summation the camp was a great experience that everyone should experience. I learned much and definitely improved my knowledge of Muay Thai. I also learned much about myself and met some fantastic, talented and knowledgeable people from all over the world, some of whom I'm sure will be lifetime friends. I could not have made it through without the help of my friends, the instructors and the infectious spirit and positive energy that permeated the camp.
Finally I would like to thank all of the Camp Instructors. I believe they are some of the best in the world. More than that, they are great human beings. They are listed below:
Grandmaster Surachai Sirisute Ajarn Dan Inosanto
Ajarn Rex
Ajarn Kim
Ajarn Greg Nelson
Ajarn Bryan Dobler
Ajarn Nino Pilla
Ajarn Mike Parker
Ajarn Scott Anderson
Ajarn Kevin Seamen
Jeff Davis is a Senior Instructor at Relentless Martial Arts in Tulsa Oklahoma. He is a Full Instructor under Guro Inosanto in the Filipino Martial Arts, Jun Fan Gung Fu and Jeet Kune Do and is now a Senior Instructor under Grandmaster Surachai Sirisute. Jeff is also a Sergeant on the Tulsa Police Department with 24 years experiences.