December 3, 2008  On The Record W/Greta Van Susteren
You all know how much I love animals….and this is my favorite charity….I know these volunteers and I have seen what they do for animals…if you could give just $10 (or even $5) it would help (and to make this more fun, if you all total donate $500 today, I will match the $500! So get going…you have 24 hours….just click below…donate a few dollars …..incidentally, I also gave last week because they do such great things at PetConnect Rescue…
And read below – the note below I had emailed to me…. The note is about SNOWFLAKE! What a great mother she is!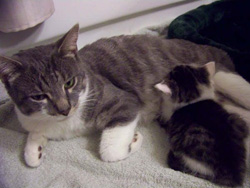 This is Snowflake. She and her kittens were found living outside in the cold. Abandoned and forgotten like so many other cats. Snowflake managed to continue to care for her kittens even though she was tired, hungry and homeless. Humans could learn a few things from the acts of loyalty and devotion displayed by animals. Luckily, this mama cat's efforts to keep her babies alive were not in vain. A kind stranger discovered the family and contacted PetConnect Rescue. This mother and her young kittens are examples of some of the wonderful cats that are available for adoption right now. The population of neglected and discarded cats is truly overwhelming. While the plight of homeless dogs is dismal, the situation for cats is even worse. There is a very urgent demand for more foster families and potential adopters. Animal lovers must not forget that cats deserve to be rescued too!
Snowflake kept her babies as safe as she possibly could during those difficult first weeks. PetConnect Rescue plans to help her keep them safe forever.
Thank you. Click here to see other pets…and what you can do to help….just $10 from you can help!
Searching for the perfect gift for an animal lover that you know? Make a contribution to save homeless animals in honor of a special family member, friend or pet! Check out PetConnect's website for details! Don't forget to mention that Greta sent you!
Read more and check out more photos, exclusive videos, and articles on GretaWire!