written by Wayne Quintyne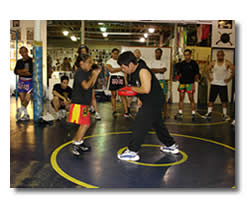 It was the first day of the Train with the Legends Camp 2006 and I was looking forward to it being over. One segment left, two hours to go! This was not to say that I wasn't enjoying the training. You see, I had only arrived the day before, having traveled close to ten hours to get there. I was still recuperating from the long flight and my body hadn't yet gotten used to the 3 hour time difference. You might say that I was more than a little bit tired. After eight hours of training, I was about to go into what was traditionally the most physically challenging part of the Camp – Muay Thai. I wondered if I could make it. It was somewhat surprising then that my eyes were attracted to the far corner of the room.
The Muay Thai portion of the Camp has always attracted a favorable number of participants and this year was no exception. There were perhaps 50 or more persons there – some were native Californians, some from other parts of the U.S. and like me, some were from farther afield. Some faces were familiar to me – persons I had met at previous Camps or Instructors' Conferences – but I found my attention drawn to one person in particular. Maybe it was his aura, or perhaps that he seemed out of place amongst the others in attendance. I wasn't sure which, but something told me that I should keep my eye on him.
Ajarn Chai (Surachai Sirisute) President of the Thai Boxing Association of the U.S.A. and the Camp Instructor for Muay Thai, began the session by having us do some light shadowboxing. This was my first opportunity to see the young man who caught my attention in action and boy was I surprised! His form was at a very high standard, better than many of the other participants there. "Never judge a book by its cover" I thought. Still I decided to reserve any judgment. Not a good idea to jump to conclusions. After all, it was only shadowboxing.
Next, Ajarn Chai took us through a counter-offensive sequence of 14 movements employing all 8 weapons of Muay Thai. I would need to stop and take notes to ensure that I would be able to retain the information, not certain of my next opportunity to learn these new drills. By the time my notes were complete, I noticed that the young man was already practicing the drill with his partner. He seemed unfazed by the fact that his partner was a more seasoned practitioner. What was even more remarkable was the fact that he had the drill down pat!
I wasn't the only one whose attention he had caught. Ajarn Chai had been taking careful note of his performance and nodded his approval.
"What is your name, sir?" Ajarn Chai asked."
"Khayman, sir."
"How old are you, sir?"
"Nine years old, sir." came the matter-of-fact reply.
This was my first introduction to Khayman McDaniels.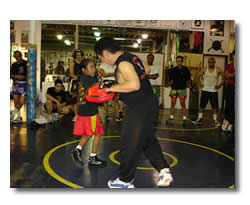 It is said that the first five years of a child's life are the most important, as this is when his character is shaped and he is most susceptible to influence – good or bad. If this is true, then kudos to Khayman's parents Don and Michelle McDaniels, for they have certainly done an excellent job in helping to shape the character of their son. Not only is he an exceptionally gifted individual, but the level of discipline and respect he demonstrates is remarkable for a child of his age. Khayman's dad, Don has expressed a strong desire in ensuring that his son is able to achieve his full potential in life, whether academically, artistically or athletically. To this end, Khayman has been enrolled in the California Virtual Academy's (CAVA) Home School Program. There, he is, a 3rd Grade student, participating in private reading, mathematics and art.
Khayman has opted for the martial arts above the usual forms of physical activities for a boy of his age. At age 3, while most other children were content to run around on the playground, he decided to take up Tae Kwon Do. After three years in that discipline, it was felt that he needed to expand his training further. Don, Khayman's father, is an avid fan of Bruce Lee and well acquainted with his philosophy of Jeet Kune Do. He believed that this approach to martial arts training would provide his son with the knowledge and skills necessary to become a functional, well-rounded martial artist.
He had also heard of Daniel Inosanto, protégé and premier disciple of Bruce Lee, and for some time had wanted to enroll his son at the Inosanto's academy, but this had proven to be logistically impossible. It was only when the Inosanto Academy of Martial Arts moved to its current location at 13348-13352 Beach Ave., Marina Del Rey that it became feasible for him to enroll Khayman at the school. The decision to have Khayman train at the Inosanto Academy has proven to be a good one. As his dad states, "We wanted him to train in an environment that reflects the same ideals we hold for our son's development. Here, he is surrounded by positive role models, great instructors and there is a lot of discipline and respect shown."
Khayman was 6-years-old by this time, and entered into the Academy's Little Dragons program. The base of the program is Kajukenbo, taught by program instructor Ray Rosales, with influences of Jun Fan Gung Fu, Kali and Silat. It was also here that Khayman got his first introduction to Muay Thai. He is one of only three children who have been taught Muay Thai at the Academy and is the only one active at this time.
Khayman has excelled so much in his training that he became the first junior to be allowed to participate in the adult Mixed Martial Arts and the Adult Muay Thai classes conducted by Sifu Dan Inosanto. Sifu Inosanto has himself commented that Khayman possesses physical attributes the likes of which he has not seen in about 40 years. He describes him as a "mature miniature adult" who is emotionally stable, well mannered, easy to get along with, has a great attitude and very importantly, a teachable spirit.
What has been the secret to his exceptional talent? Perhaps it is that he trains 4 times a week. Maybe it's the benefit of cross-training., or simply, it may be the passion he has for the martial arts and the pure enjoyment he derives from doing them.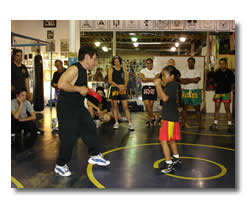 Of all the years I have trained in Muay Thai, and of all the times I have benefitted from the counsel of Ajarn Chai, there has been one comment he has made that has always stuck with me: "The discipline and respect are most important." It is clear to me – having spoken to his instructors and parents, and having trained with him at the Camp – that Khayman fully appreciates the importance of these values. His application of these values in his life has not only reaped benefits for him in his martial pursuits but has created opportunities for him in both an acting and modeling career. He is signed with the Ford Modeling Agency and ABRAMS Artist Hollywood, and there is strong interest in him doing a production called "Ninja Chronicles" for Nickalodeon.
What are his future aspirations for the martial arts? Well, Khayman sees no immediate end to his pursuit of martial excellence. His parents are considering allowing him to compete in Muay Thai in the not too distant future, but as his dad has expressed, this will have to be discussed between his instructors and family, and only when, and if, he wants to. Though he is too young at present to test under the current TBA structure, it is hoped that a junior grading syllabus will be developed to allow him and other juniors to test for Muay Thai.
It is my hope that one day he will become an instructor of Muay Thai. I believe that he will prove to be a great asset to the TBA, and as Ajarn Chai rightly stated, he and others like him are the future of Muay Thai. The legacy of Muay Thai and the TBA lies with the generation of young martial artist now coming up and we must do everything in our power to encourage them. Khayman McDaniels is an inspiration to me, and I am certain to many others who attended this year's Legends Camp. When I am having difficulty with my Muay Thai form, I will remember him and the words of Ajarn Chai: "If they can, you can!"
Wayne Quintyne
IIMAIA
Barbados
umaabarbados@gmail.com