written by Gene LeBell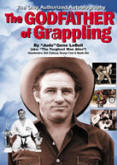 296 pages, full-color
and black & white photos
In a 50+ year career of high falls and fist fights, "Judo" Gene LeBell has crashed cars, jumped motorcycles, wrestled bears, incited riots and fought some of the toughest men in the world. He was an AAU National Judo Champion and a Professional Wrestling World Heavyweight Champion at a time when wrestling was more about survival than show business.
In this ONLY authorized autobiography, Gene gives us an insiders view of his childhood, movie sets, wrestling rings and Japanese dojo where he made his living and built his reputation by dishing out pain and punishment.
He was there during the "Golden Years" of martial arts growth in the U.S. and shares intimate experiences with legends like Sugar Ray Robinson, Muhammad Ali, Elvis Presley, Ed Parker, Bruce Lee, Andre "The Giant," Lou Thesz, Hulk Hogan, George "Superman" Reeves, Burt Reynolds, Chuck Norris and many others.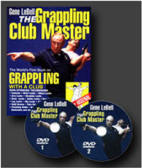 The World's First Book on Grappling with a Club. Non-Striking Techniques.
The following is an excerpt of writing from LAPD training officer Steve Uhrig about Gene LeBell and why he is qualified to be instructing law enforcement officers:
CONTROL AND PAIN COMPLIANCE
In today's Law Enforcement and security training, there are many concepts and training programs offered to teach how to control and arrest someone. The terms "Control" and "Pain Compliance" are used all the time. Both of these can be separate theories of techniques or they can be combined.
Gene LeBell, a true martial arts pioneer, legend and police trainer, understands the need to give safe and effective training to law enforcement and security officers. Control can be used in many forms:
1. To stop an individual from being aggressive.
2. To maintain order of an unruly crowd.
3. To hold someone that is being arrested without injury to himself or herself or officer.
The term "Pain Compliance" is primarily used when officers are using arrest techniques in order to get the individual to "Comply," thus putting them in "Control." When officers use a joint lock on someone, initially it can cause some kind of pain. I use joint lock here to refer to techniques used to control someone by locking their shoulder, elbow or wrist joint. Depending on the amount of force used by the officer, results in various levels of pain to the subject. How these two terms are used together, is during everyday control and arresting someone. Officers can put a control technique on someone without causing pain. Usually pain can result from one of two situations:
1. The subject is very aggressive and because of body movement, pain is caused to the individual when the officer uses a joint lock.
2. The officer has the individual in control using a joint lock and the subject decides to resist this control attempt. This is when the subject causes his own pain, not the officer.
Gene LeBell has invented and taught some of the best control techniques that Law Enforcement and Security Officers can use. Sure, pain can be caused applying any kind of technique. But Gene's techniques are used for ultimate control. Again, people have to realize the variations and causes noted above as to whether or not a technique will cause pain.
Gene's phrase "Pain is weakness that is leaving the body" is used when training in the gym. Officers need to train hard in arrest and control techniques to endure the pain they often endure while arresting someone. Hard training in techniques offered by Gene LeBell will certainly ensure officers are "Staying Alive on the Street!™"
For ordering information, go to http://www.jkdassoc.com .