written by Jim Brault and Kevin Seaman
Ever Wonder Why You Don't Always Meet Your Potential?
New Book Creates A Toolbox For Excellence.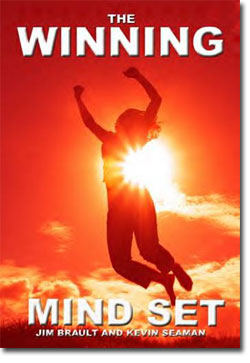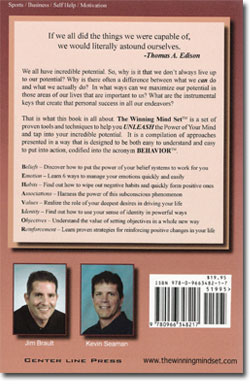 The Winning Mind Set, a new book written by Jim Brault and Kevin Seaman is geared toward making YOU better at whatever you seek to accomplish. These two previously published authors from New York have teamed up to teach the reader how to gain a significant Mental Edge and the Winning Mind Set necessary in order to achieve at levels they've never experienced before.
We all have incredible potential. So, why is it that we don't always live up to our potential? Why is there often a difference between what we can do and what we actually do? In what ways can we maximize our potential in those areas of our lives that are important to us? What are the instrumental keys that create that personal success in all our endeavors?
That is what this book is all about. The Winning Mind SetTM is a set of proven tools and techniques to help you UNLEASH the Power of Your Mind, and tap into your incredible potential. It is a compilation of approaches presented in a way that is designed to be both easy to understand and easy to put into action, a toolbox codified into the acronym BEHAVIORTM.
The Winning Mind Set by Jim Brault and Kevin Seaman. Over four years was dedicated in the preparation and polish of this amazing book.
The first printing is now available with A Winning Mind Set!
Have an absolutely amazing week.
Check out web site at: www.thewinningmindset.com