Reprinted with permission from "Diversified Combat Systems" Monthly Newsletter April 2007
Photos Courtesy of John Maidment
Despite years in the martial arts, I never visited Asia during my active years. My motivation for finally going was a girl, of course – my friend, Saki Inoue – and my new found passion, photography.
Saki was attending UCLA for a year, visiting here from Tokyo, and we were lucky enough to meet at a fashion show. She was my primary model during 2006, and we became good friends over this time. Before she returned to Japan in September 2006, I inquired if she had a photographer for her university graduation, which was to be in March. When I was told "no," I offered to do it, and from there we made plans for my trip. I also knew that it would be a trip where I could visit some unique places for travel photography as well, and that we could do somemore photoshoots together.
The trip lasted eight days, and except for one morning and one evening, I was busy the whole time. We explored the restaurants and sights of Shibuya (the district where my hotel for the first three nights was located). Neon lights and billboards were everywhere; litter was nowhere. "Such a clean city," was one of my earliest observations. We also travelled by the Metro Rail system to Asakusa to a large temple located almost in the center of Tokyo, and one day, her parents drove us just outside of the city to visit temples and shrines in and around Kamakura City. Being some eight hundred years old, these statues, cemeteries and buildings were amazing. The grounds were well maintained, with gardens and paths, and stairs – there seemed to be always stairs to climb, as many of these places were located on hills.
Other places of interest we visited were Roppangi Hills, a shopping plaza that included office buildings, an observation tower (which we did not enter), condominiums, and of course, stores. A short train ride from there was Tokyo Tower, which kind of looks like the Eiffel Tower, and from its observation deck, we enjoyed a 360-degree view of night time Tokyo.
Saki's graduation was on the 22nd of March, just 2 days after my arrival, but I was well prepared and got some great photos during the diploma presentation, as they allowed me to move around directly in front of the large classroom. I was able to meet many of her classmates, one of her teachers, and the former and current deans of the university. The faculty was Caucasion, and all the students could speak English to some degree, most quite well. After the diplomas were presented, there was a reception, and later that night, there was an after-party club, where I was once again the official photographer, couresty of Saki.
During my trip, I got to go to a party held in a park, under the cherry blossom trees, which were not in bloom, unfortunately. It was also the coldest and windiest day of the trip! These parties are frequently held in the spring, from what I understand, and that day there were many groups celebrating.
Later that evening, we went to see a comedy show – an improvisational performance conducted by Saki's acting coach and some of his friends. Despite the language barrier, it was quite funny, and they were also able to speak some English. During the show, I volunteered a suggestion for one of their skits and they used it! After the show, they sat with Saki and me for awhile. It was at this club that I met a girl who said she had trained with Sifu Yori Nakamura for three years in JKD.
Speaking of martial arts, Saki had trained privately with me several times while living in Los Angeles, and we reviewed her material while I was in Japan. We trained three times, once outdoors in Kinuta Park, near her family's residence. We covered some Jun Fan kickboxing, trapping and self-defense, plus drills from the Filipino martial arts, including double stick, single stick and empty hands. Last year, Saki used the skills she had learned during the talent portion of the Miss Japanese Summer Festival, and placed first! Besides training for personal enjoyment and self-defense, she also hopes the martial arts knowledge will be useful to her as an actress.
(Photo Coming Soon)
Sifu/Guro John Maidment in Kinuta Park, Tokyo
(Photo Coming Soon)
Saki Inoue training in the Fililpino Martial Arts with Guro John Maidment during his visit to Tokyo, Japan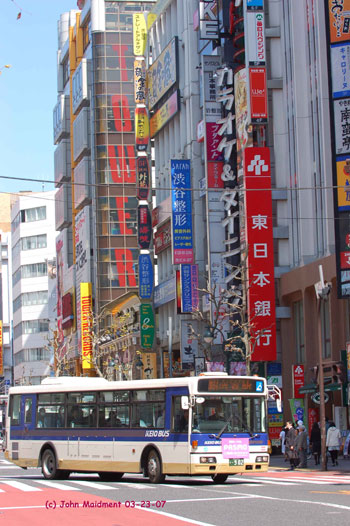 Shibuya
(Photo Coming Soon)
Shibya Street at Night
(Photo Coming Soon)
Tokyo Tower
(Photo Coming Soon)
Hasedera
(Photo Coming Soon)
Roppangi (2 photos)