By John Spezzano, RKC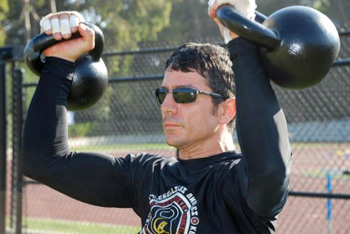 Along with fighting in the ring, successfully completing a 10-day silent meditation and summiting Mt. Whitney in one 13-hour round trip push, the Russian Kettlebell Challenge ranks right up there with my most challenging accomplishments.  Three August days of hard iron, blazing sun and bleeding hands was a truly outstanding experience.  Kindly allow me to elaborate.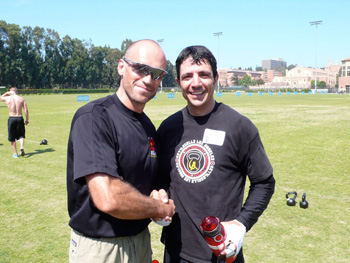 Anyone who knows me knows I'm a skeptic to the core.  You can make any claim you want, I'll be polite, but until I see and experience it first hand, I don't give it much credence; but if, upon further inspection, it is what you say it is, I will defend it to the end.  Hence the reason I've trained with Guro Inosanto without break since 1993: he's the real deal, constantly evolving and pushing the edges of himself, his training and his teaching.  That mindset also sums up my evolving relationship with "hard style" kettlebell training.  As Dr. Mark Cheng, RKC Team Leader and my personal coach, is so fond of reminding me, I initially remarked, what's the big deal, bells are "just weights."   I'm sure he's chuckling reading this.  Suffice it to say there's a reason Guro Dan trains "hard style" kettlebells with Pavel weekly, it is the real deal.
I'd met Pavel Tsatsouline a couple times at the Inosanto Academy prior to the RKC and yes, he seemed fit and very polite, but I just didn't get what the hubbub was all about.  No offense to the man who singlehandedly brought kettlebells to the forefront of American strength and conditioning training, but I've been around truly world-class martial arts instructors like Guro Dan as my personal teachers for over 15 years, so it takes a bit to impress me.  Well, impress he does.  Pavel is, in no uncertain terms, a certifiable encyclopedia of strength, conditioning, joint stability, corrective exercise and general fitness, and he implements all of the above in a safe environment!  The breadth of his training knowledge is equaled only by his ability to cut to the core of a client's physical limitations, and his ability to find shortcuts to remedy these limitations is truly uncanny.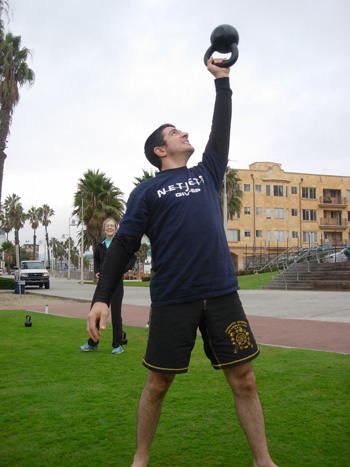 Like in so many things that Guro Dan has introduced to those of us at the Academy, he does it in a way where we can decide its value for ourselves and go from there.  With over 25 years of martial arts training under my belt and well over a decade of teaching martial arts at the Academy and around the country and Europe as well as Defensive Tactics to numerous US law enforcement and military personnel, longevity is quickly becoming an important part of my training (just like Guro said it would).  Kettlebells undoubtedly gives me the ability to make the slide into middle age as enjoyable as possible!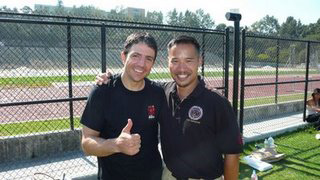 In terms of the RKC weekend itself, I knew it would be physically demanding so I thoroughly prepared for the weekend prior to showing up.  Dr. Cheng had all the instructor candidates bleeding in practice so we would merely cry tears of joy those days in August under the hot sun at UCLA.  Thanks Doc!  That weekend we performed swings, cleans, snatches, dead lifts, and squats by the hundreds.  Turkish Get Ups, Goblet Squats, Walking See Saw Presses and Farmer's Walks completed the training making the 3-day seminar as challenging mentally as it was physically.  My numerous years of study under Guro Dan prepared me well for the mental tasks that would come my way at the RKC.  I needed every trick I had to keep on point and get the maximum out of the weekend.
There is truly a TON of information passed out at the RKC weekend.  Like all seminars with true masters, you get what you're ready to ingest.  I received some wonderful tips on perfecting my squat and my press, as well as corrective measures for saving clients' lower backs and knees.  Just like the new Kali or JF/JKD student who is confused the first time they train with Guro Dan, my first RKC was brain overload.  But also like that first seminar with Guro Dan, the RKC was it was also completely outstanding and unforgettable.
Since completing the RKC, I've recently begun co-instructing the monthly kettlebell workshops at the Inosanto Academy with Dr. Cheng.  I'm also starting a class in Hollywood in the middle of September and I'll be bringing "hard style" to the Monterey Bay at the end of the month as well.  Many thanks to Guro for introducing me to bells, to Pavel for bringing them to the US and to Doc for training me so thoroughly!
Please check www.hollywoodkettlebells.com or email hollywoodkettlebells@gmail.com for more info.