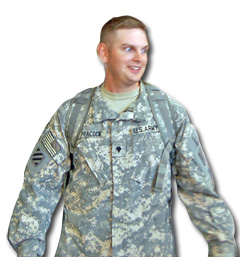 IIMAIA Instructor Lee Peacock's son is currently serving our country.
We Love You Eric!
SPC 4 Eric Lee Peacock
23 years old, Enlisted in the US Army 2005, 1 year of training, 1 year in South Korea, and currently stationed at FOB Falcon, Iraq.
He is with the 3rd Infantry Division and was the 50 cal. gunner on an M Wrap when he first got to Iraq, He is now the driver of an M Wrap for his company platoon leader.
He is married (wife Maribel) with one daughter (Autumn).