Remembering Sifu Larry Hartsell
It Is With Great Sadness
That We Announce The Passing Of Our Beloved Friend
Larry Benjamin Hartsell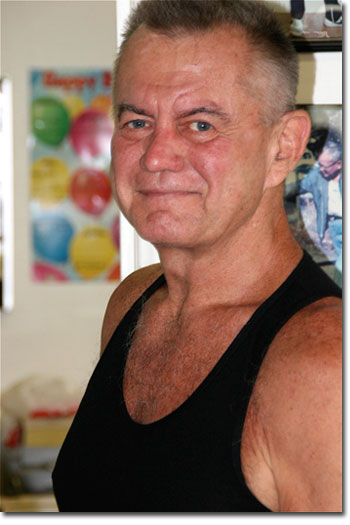 August 15, 1942 – August 20, 2007
For over 40 years Larry filled our life with love and laughter.  His loyalty and dedication to his family, teacher, students and friends was unparalleled.
A true warrior, Larry served his country as a soldier in Vietnam and served the martial art community for over 4 decades.
The martial art community has lost a true master.  We have lost a dear friend, but gained so much more by having had Larry in our lives.
Of all that he loved in this life, the martial arts, his students, friends and boxer dogs, he loved his Debra most of all.
He will be missed.
Survived by his loving, devoted wife Debra Hartsell, Marina Del Rey, CA
Brother, Dale Hartsell and sister Cheryl Hartsell Mills Charlotte, NC
And Simon Dempsey & Chelsea Hartsell (faithful boxer dogs)
Condolences & donations may be sent to the family in care of the Inosanto Academy, 13428 Maxella Avenue #237, Marina Del Rey, CA 90292
In accordance with the family's wishes, funeral services will be private.
Memorial service pending, future information will be posted at www.inosanto.com
"You can shed tears that he is gone,
or you can smile because he has lived.
You can close your eyes and pray that he'll come back,
or you can open your eyes and see all he's left.
Your heart can be empty because you can't see him,
or you can be full of the love you shared.
You can turn your back on tomorrow and live yesterday,
or you can be happy for tomorrow because of yesterday.
You can remember him only that he is gone,
or you can cherish his memory and let it live on.
You can cry and close your mind,
be empty and turn your back.
Or you can do what he'd want:
smile, open your eyes, love and go on."
A poem by
David Harkins
Email condolences may be sent to inosantoacademy@aol.com
| | |
| --- | --- |
| | |
| | |
With Sifu Francis Fong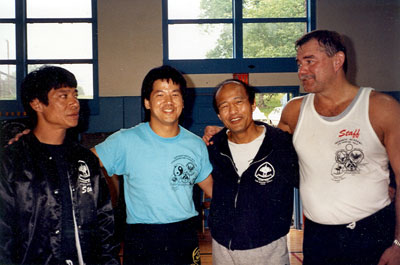 With Ajarn Chai, Sifu Francis Fong, Guro Dan Inosanto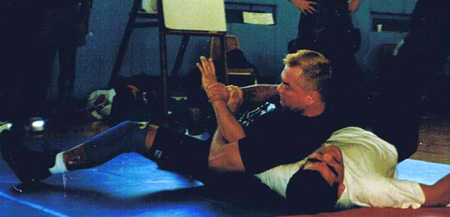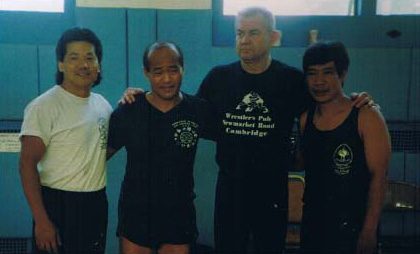 A Note From Rick Young
First of all I would like to express my sincere condolences to Debra Hartsell and all of Sifu Hartsell's family and friends.
When I first heard the news of Sifu Hartsell's passing I was and to a large extend still am deeply shocked. I find it hard to believe he has passed on. This is mostly because I don't want it to be true. When I think of Sifu Larry I have thoughts of a towering man who possessed tremendous skills but who also was full of generosity and friendship.
I first trained under Sifu Hartsell during the summer of 1984 when I visited Los Angeles and the Inosanto academy for the first time. I was a little apprehensive about this man of whom I had heard so many incredible stories of his time in Vietnam, his sheriff work, his bodyguard career and of course his martial arts prowess.  I was so delighted then to be taught a class by someone who not only possessed fantastic skills in the arts but who was also so gently spoken and unassuming that it was hard to reconcile some of the story's I had heard  with the man I was now meeting. But as I was to learn in the following years Sifu Larry was really Ying and Yang; a soft spoken gentle man who had time for everyone and who was also incredible effective as a martial artist and teacher.
I have many fond memories of him coming to Edinburgh, giving seminars and me following him anywhere  from the Highlands of Scotland to London on his many tours of the United Kingdom. When I visited Los Angeles he would teach me for free and allow me to stay in his apartment even when he was out of town because he knew I was having a hard time financially.
He always encouraged and praised me helping me to develop and to work out what I should do and were I should go. He opened many doors for me and if it was not for his guidance and encouragement I would not have achieved anything like what I have achieved in my martial arts development and in my life.
I regret very little in my life and try not to live in the past or to look back and wonder "What if?" too often. But I do regret not letting him know how much he really meant to me and how much he influenced my life. So I think this letter is really to thank Sifu Larry Benjamin Hartsell for all he has given me, my family, my friends and my students. His influence will echo down the years and be felt for generations to come.
Sifu, wherever you are I will treasure the memories I have of you and the knowledge you have given me. And finally I   "Thank you" for all of this with all my heart and all my love.
Rick Young